Get an as-is cash offer for your home
"*" indicates required fields
Selling your house quickly can seem daunting and nearly impossible.  You may be thinking that if "I sell my house quick, I'm going to have to give it away".  However, nothing could be further from the truth!  Selling  your home quick doesn't need to be overwhelming.  Even if your home will only qualify for a cash buyer, you can sell your home quickly by following these 10 steps.
10 tricks to selling your home quickly
1. Speed, Convenience and Price
Having a clear understanding of how quickly you want to sell your house will impact how you make decisions during the selling process.
To explain what I mean, let's use an example of selling an old car.  You may have your eyes on another car, but you need the money to buy it.  Or, you may have an older car that you're just done making repairs to.  You can advertise it and hope that someone will come along who wants to buy it.  Or you can trade it in at the dealership for a new car.
The way you choose to sell your house, is the same.  You may choose to sell it using the traditional process of using a real estate agent, or you can choose to trade your house in like your car.  The way you choose to sell your house is all about speed, convenience and price.
"The way you choose to sell your house, is all about speed, convenience and price."
Not everyone needs to sell their home quickly.  For some, quickly means a month or two.  If you're being transferred to a new job, changing schools or just wanting to move to a different location, quickly probably means you're thinking of selling in the next month or two.
For others, selling quickly means selling your house in a week.  If you're from out of town and trying to sell a property you no longer desire to have, selling quickly may mean selling, while you're still in town.  These sellers don't want to have to go back home and worry about making any more trips back and forth to take care of an unwanted property.  Other sellers may have had their life situation change suddenly.  Divorce, marriage, a family member passing or financial hardship can all be reasons sellers to say "I want to sell my house quick".
Thus, having a clear understanding of how quickly you want to sell your house, will impact how you make decisions during the selling process.  Will you use a real estate agent or sell your home yourself?  Will you price the home lower, to sell it quicker, or will you price it higher?  These are just some of the decisions that will be impacted by how soon you want to sell your house.
2. Understand any home will sell quickly for the right price
Some properties seem to take forever to sell.  You think you've done everything right to sell it quickly, but it just sits on the market.  You may have even offered up a prayer to St. Joseph.  Still, no offers.  Meanwhile, you continue to pay the bills, the mortgage and insurance for the home. When this happens, it's almost always the price.  Any home will sell, for the right price.
Price your home right to sell for it's condition
The price may be too high for the home's condition.  It's easy for a homeowner to look at their home through rose colored glasses.  They don't feel the problems buyers see.
Years ago there was a TV show called "Sell this House".  The show would put cameras in different rooms of the house and record what prospective buyers would say when they walked into different rooms.  Afterwards, the host would show the video to the sellers and listen to what the prospects said.  It was often a brutal reality check for the home owner.  Things the sellers liked or over looked, were often major turnoffs for prospective buyers.  When this happens, sellers have little choice but to fix the issues, or price the home better.
Price your home right to sell for it's location
You have probably heard about the three rules of real estate – location, location, location.  Some properties sell quickly because of their location.  Gated communities, low crime, great schools, good jobs and economy all impact the the sale of a house.  If your home sits on the corner of a busy intersection, you need to adjust the price differently than a house on a quiet cul de sac.  Your house may not be in the ideal location, but priced right, their will be someone willing to buy it.
If you price your home correctly for it's condition and location, and it will sell quickly.
3. Check out how quickly homes sell in your neighborhood
Since we're talking about how quickly homes sell for your location, you should do a little homework and find out how quickly homes sell in your neighborhood.  Head over to Realtor.com (after your finish reading this) and click on the "Sell" link across the top of the page.

Next, select "Track Home Value" and then enter your property address in the box that says "Enter your address" and select "Get Started".


When the new screen appears, click on "Neighborhood" on the left.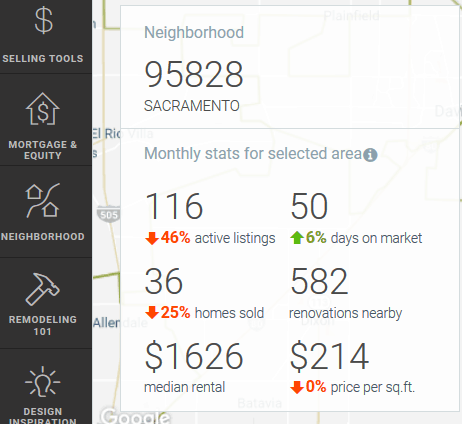 Once you have done, this, you'll be able to sell how quickly homes sell in your neighborhood, as well as how may other houses you will compete with.
Important :  When looking at Days on Market (DOM), it's important to remember that DOM only measures the amount of time between the house being listed and receiving a signed contract.  It does not include the amount of time spent between the time you enter into contact and actually close escrow.  This is the time buyers use for inspections, negotiating repairs and waiting for their lender to fund the purchase.  So, in the neighborhood in the graphic above, where a lot of purchases are FHA and VA, you should add another 45 days to the sales process.  In a neighborhood  with more conventional type of loans, you should expect to add an additional 30 days for escrow.
4. Find a local agent who sells homes quickly
Generally speaking, most sellers are better off selling through a Realtor®.   Not because you will make more money, you may not.  We'll come back to that in a moment.  The reason most people use a real estate agent is because the typical selling process can be complex.
Different states have different rules and disclosures, that add several layers of paperwork to the process.  Using an experienced, local agent who knows your local market can be invaluable.  They're a researcher when you need to know market information.  When you're discouraged, they're your coach.  They're an interior designer when you need decorating advice.  And they're a mediator during difficult negotiations.
What a good local agent can help you with, is walking you through the sales process and marketing your property.  However, they're not attorneys and cannot give you any legal advice.  If you're considering hiring an agent, be sure to read our top questions to ask a prospective agent before hiring them.
Will you net more money selling through a Realtor®?  Maybe not
The National Association of Realtors and Realtor.com love to say that you'll receive more money for your home using a Realtor than if you sell it yourself.
"FSBOs typically have a lower median selling price: $208,700 compared to $235,000. Thus the typical agent-assisted home sale typically has a 13 percent higher sales price than the typical FSBO sale." – Source Realtor.org
It's not uncommon to hear real estate agents make this statement as part of their sales pitch, hoping to have you list your home with them.  However, a study by Northwestern University showed that there was zero difference in net proceeds between selling through a Realtor versus selling For Sale By Owner.
A study by Northwestern University showed that there was zero difference in net proceeds between selling through a Realtor versus selling For Sale By Owner.
For an interesting comparison of the National Association of Realtors and the Northwestern report, and why the difference, you can check out this article.
Related Article:  How to Work with Your Realtor® to Get What you Want
5. Downsize now,  to sell your house faster
Moving is always stressful, especially if you have lived in your home for a long time.  I recently had a friend who moved across the country tell me, "I didn't realize how much of a hoarder I was until I started preparing to move".
Even if you don't have a hoarder house, start the process of downsizing now.   Not only will it make it easier to move, it will make your house easier to sell.  The more stuff you have in your home, the harder it will be to sell.  It's much easier to sell an empty home than one that is full of personal belongings.
Three things to do as part of your downsizing
Declutter
Homes with less stuff look bigger, cleaner and sell faster.  Start by asking yourself what can you absolutely not live without in your home?  Then, get everything else out of your house.
Start in the living room by removing all but a couple of chairs and an end table.
Then, move to the kitchen and closets.   Go through all of the cupboards and closets and empty them of everything.  Then put back only the essentials, but make sure you don't fill any cupboards more than one third full.  You want your home to look like it has plenty of storage.  Whatever doesn't go back in the closets or cupboards, sell at a garage sale or put in storage.
Note:  See our related article on 10 Questions to ask estate sale company before hiring them.
Rent temporary storage space
You will probably have things that you need to keep, but shouldn't be left in your house.  That old comfy couch you just can't get rid of, or that big mixer that sits on on your kitchen counter.  These are the kinds of things that may be worth renting a storage unit for.   You can rent a reasonable sized storage unit for under $150 a month in most areas while you sell your house.  Anything that won't fit in storage, you probably won't use again anyway.
De personalize
Lastly, de personalize.  I've never really understood this, but every Realtor® I know says "Remove all of the pictures of your family".  The goal is to let potential buyers imagine their family living in your home instead of seeing of your family living in it.
6. Choose when you want to sell your home
Selling a home normally takes two to three months.  The best time to sell your home the fastest is typically in the late Spring and early summer when families are looking to move after school is out.  Not only do homes sell more quickly in the late Spring, but they also see a slight uptick in their sales price.  This is partly due to competition between buyers.  However, it also means more competition with other sellers listing their homes.
What about families without children living at home, or who's children are home schooled?  These families are not limited by the school calendar, and may be looking during the non peak season to purchase a new home. These types of buyers may be the next buyer of your house if you are needing to sell your house sometime other than the Spring or Summer.
7. These low cost upgrades will help your home sell faster
When selling your home, there's almost always a list of repairs and upgrades that homeowners think about.  However, most upgrades will not give you a dollar for dollar return.  If you spend your dollars on the wrong upgrades, you probably won't get your money back when you sell.  Here's a graphic from an article we wrote about the Five Mistakes Sellers Make when remodeling their home to sell that can help you determine the best return on your repair money.
Replace your garage door
The number one dollar for dollar return on your upgrades is your garage car door.  If it's damaged, severely dinged up or one of those old wooden doors, consider replacing it.  For less than $2,000 you can have a nice roll up door installed on a typical two car garage.  It will make your home look newer and cleaner, while giving you a 98% return on your investment.
Replace or paint the front door
Similar to replacing the garage door, if your front door is in poor condition, replace it with a new vinyl front door.  If it's in good condition, maybe just a good coat of red or black paint.  I don't know why, but red or black front doors increase the curb appeal.  Every house we paint or flip, gets a red front door.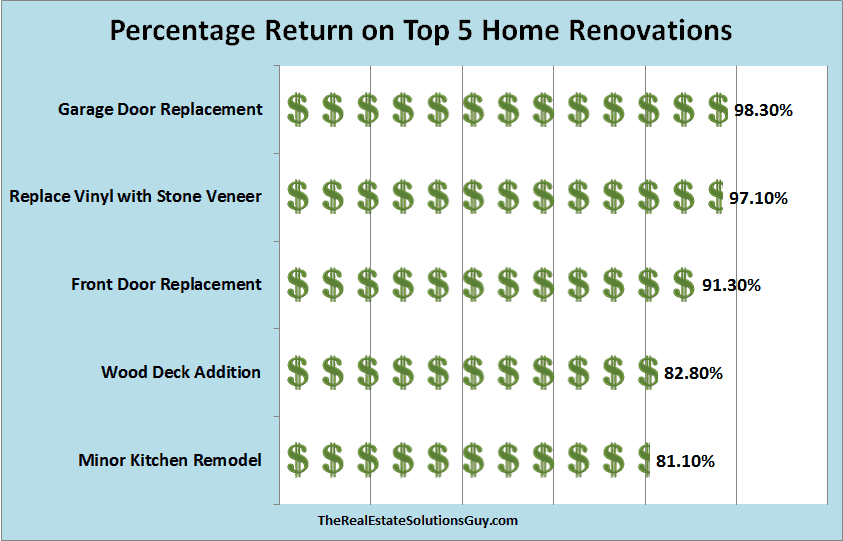 Clean up and bark the landscape
Start by trimming back bushes and trees.  You want people to be able to see your house, not have rose bushes hiding the front of your house and climbing up onto your gutters.  You don't want prospective buyers to see over grown bushes, and think your home has lots of deferred maintenance.  Next buy some bright, potted flowers that aren't quiet ready to bloom.  Plant these in appropriate areas in your front yard.  Then when you get ready to list your home to sell, the flowers will be in bloom adding pizazz to your home's curb appeal.  Lastly, bark the landscape between flowers and bushes.  Fresh bark creates a nice backdrop for your fresh flowers, and helps the landscaping look nice and clean.
8. Use the #1 proven technique to sell your home faster – staging
If you're still asking "How can I sell my house quick", use staging.  In a study conducted by the Real Estate Staging Association, homes that are staged, sell 86% faster than unstaged homes.  They surveyed 634 homes listed for sale that hadn't sold.  The unstaged homes spent an average of 107 days on market and were still unsold.  Here's the real evidence for staging though.  When those same homes that didn't sell, were staged and relisted, the homes sold in just 25 days!  In addition, those homes that were staged prior to listing them for sale, sold in 18 days.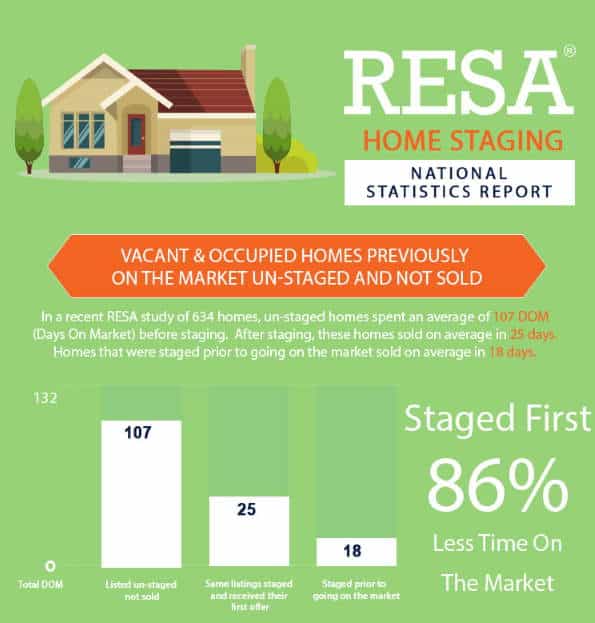 Now, it's not a perfect study.  After spending almost 4 months on the market, you have stagnant listing.  We don't know if just relisting the homes as new listings might have had some impact on their sale.  Four months could have also changed when a house was on the re marketed,  i.e., moving the listing from December to April.  However, it's hard to completely ignore that after staging, the average time was reduced to 25 days, instead of 107.
To stage your home your home for a faster sale, check out our complete guide to How to Stage a House to Sell Quickly, on a Budget.
9. Use a professional photographer to sell your house quick
If you're paying for a professional staging company to stage your home, pay for a professional photographer.  Don't let your Realtor tell you that they can take just as good of pictures with their smart phone.  It just isn't true.
A professional photographer will bring the right lighting and wide angle lenses with a quality camera.  Some photographers will even edit your pictures removing any shadows or glaring errors.  For about $150 you can hire a photographer to come take pictures of your home after it has been staged and they'll have the pictures back to you the next day.  If you don't know a professional photographer, ask your staging company who they would recommend.  They may even include professional photos as part of their staging package.
10. Consider a non traditional approach to selling your home
Auctions
Auctions can be another way to sell your home faster.  There are two main types of auctions – absolute and reserve.
Reserve auctions have a reserve amount (a minimum price) that the seller will accept for their home.  The reserve amount is not made public, so the public is bidding against each other, and maybe even against the seller.  If the reserve amount is not met, the seller can attempt another auction, or try a different sales approach like selling as a FSBO or selling through a real estate agent.
With absolute auctions, the home sells for whatever the highest bid amount is, even if it is less than what the seller had hoped for.  Absolute auctions tend to draw a bigger crowd of bidders looking for a good deal.   In other words, it's probably investors looking for a house for cheap.
With good advertising, and enough lead time to let the public know, auctions can be a great way to sell a home.  The key however is advertising and plenty of lead time to advertise the auction.
What if I don't have the time, energy or money to do any of these?  How can I still sell my house quick?
If you're asking yourself this question, then selling to an investor or a cash buyer like The Real Estate Solutions Guy may be a great solution for you.  Cash buyers can buy your home as is, saving you time and money on repairs or sprucing things up.  They won't care if your house has deferred maintenance, or looks plain ugly.  As an additional benefit, an experienced cash buyer can close quickly, often in less than a week.  Not only do you get your money sooner than a traditional home sale, but you get to move on with your life much faster.  Even if you don't have an ugly house, cash buyers provide a convenience that few others can.