Summary:
Estate sale company fees can vary greatly depending on the quantity and quality of items
An experienced company will have a large mailing list to market your estate sale to
Staffing, security and insurance are important discussions to have with any estate sale company you hire
You need to know what will happen with items that don't sell?  Consignment, donate to charity, etc.
Get an as-is cash offer for your home
"*" indicates required fields
If you're dealing with an estate and thinking of hiring an estate sale company, there are several questions you need answers to.  How much does an estate sale company charge?  Should I hire someone to sell my stuff?  In this article, we discuss the top 10 questions you should be asking of estate sale companies.
1. What experience and reputation does your estate sale company have?
When hiring an estate sales company, hiring an experienced company with several years of experience is a must.  This isn't just a garage sale, with some odds an ends.  It's your family's estate, and potentially a lot of money.  You need someone who has experience dealing with sorting through the estate and setting values.  When interviewing prospective companies, ask prospective them how their process of sorting and pricing works.  And be sure to ask about their staff's appraisal qualifications and credentials.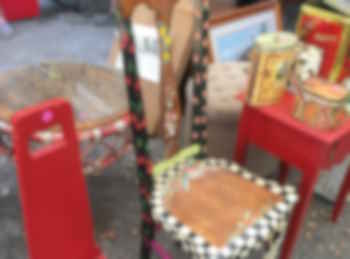 Does any of your staff have a personal property appraisal certification?
If the estate has items that might be expensive antiques, you'll want to know if the prospective company has anyone certified to appraise personal property.  These are people who have taken several hours of training and continuing education qualifying them to appraise your stuff.  Look for staff to be certified in personal property appraisals.
There are third part appraisal organizations, such as the International Society of Appraisers that certify their members and require their members to follow high standards.  Additionally, certified personal property appraisers often need to re certify every 3-5 years and follow the Uniform Standards of Professional Appraisal Practice (USPAP).
References
You want someone who will do more than just sell your family's stuff.  You're looking for someone who works well with clients and will not cause you additional stress.  So, be sure to ask them for references to previous clients you can communicate with.  Ask these clients questions like, "Were they easy to communicate with?  Did they meet your expectations?  Why or why not?".
2. What services does your estate sale company  include?
Not all estate sale companies include the same services. Make sure you get a list of services that will be included in writing.  Does the estate sale company's services include sorting, cleaning, pricing, organizing, and cleanup?  What about removal of items that remain unsold?  Do they market to consignment stores and antique dealers if you have higher valued items or antiques.
3. What are your fees and costs?
Most estate sale companies charge a commission based on total sales.  According to the National Estate Sales Organization, estate sale companies typically charge between 30% and 50% of the gross sales.  Commission percentages may be lower for estates with high value items, or estates that require minimal sorting and organizing.
When an estate appraiser walks through your property (they should always do a walk through of your estate), they'll be mentally assessing the amount of work they need to do and still make a profit.  Estates with original artwork, or items easy to sell like power tools take less work  Your appraiser may be willing to charge a lower commission because they require less work.
Estates requiring more work, will incur higher commission costs.  Homes that have a lot of junk, will typically require higher commissions.  Houses, such as hoarder homes, may even charge 100% commission just because of the amount of work.  If this is the case, and you're thinking you just want to move on and avoid the mess altogether, you may want to contact a company that buys houses as-is for cash.  These companies will often buy your home as-is, allowing you to just walk away and leave everything behind.
Additionally, ask what services incur extra fees.  Years ago I was doing business with a company and asking them about the services they offered.  They mentioned several services they offered, but didn't communicate that those services were not part of the base fee.  Only after we agreed to work together, did I find out that many of the services I thought were included, incurred extra fees.
4. How big is your mailing list? (Advertising and Marketing)
One of the best questions you ask regarding an estate sale company's marketing is, "How big is your mailing list?"  Experienced estate sale companies have spent years building a subscriber base of buyers.  Every time these companies do an estate sale, they have a signup sheet.  This allows for buyers to get on the company's preferred customer email list for future sales.  Prior to hosting an estate sale, these companies will email everyone on the list.  Many will have a "pre sale" day, where customers on this list are allowed to come and shop for items the day before everyone else.
It may also be helpful to ask "How many visitors visit your website monthly?"  You'll also want to know if your estate sale will be listed on their website, and if so, how far in advance of the sale?
5.  How will you protect me and my stuff? (Security, Staffing and Insurance)
A major item to consider at your estate sale will be security and theft.  With dozens of people wandering through your family home and looking for valuable deals, security should be important.  Ask prospective companies what safeguards will they have in place to prevent damage, or even theft.  Ask questions like, "How many workers will you have on site?" and "Will there be  a staff person in each of the rooms?".
Insurance
Any company you choose should have liability insurance.  You're going to have lots of strangers walking around the home.  If one of them trips on a table leg or sidewalk, it may result in a lawsuit. Lastly, make sure your own homeowners insurance policy is still in place as you'll likely be named in any lawsuit.
Some companies may even have insurance to cover breakage or theft.  You might ask, "Do you have insurance, for damage or theft, and what does it cover?".  If your estate has very high end or fragile items, ask if you can be added as "additional insured" to their policy.
6. How long does the entire estate sale process take? (Timelines and Schedule)
If you have ever held a garage sale, you know it takes a lot of time.  That's why you're hiring an outside estate sale professional – to save you time and effort.  The benefit of hiring these companies is their ability to come in quickly to sort, organize and price the personal property.  Obviously, you'll want to know their availability, so be sure to ask what their open dates are.  But you should also ask for a tentative timeline as to when they will start, what day(s) they will hold the sale, and when they will be completely done.
7. What will we do with the items that remain unsold?
One of the reasons you hire an estate sale company is so that you don't have to deal with any of it.  If there's unsold items left over, you don't need to bring the stuff home or take it to the dump.  You'll want to know what happens to anything that doesn't sell during the estate sale.  Ask the company, "Does the company donate the unsold items, haul away or leave behind?"
Consignment of unsold items
Some unsold items may be very valuable.  Furniture and original artwork can often be sold on consignment at local consignment shops.  If so, you need to ask more questions. "Does your estate professional work with any consignment shops to sell unsold items?"  If so, "Is there a fee on the part of the estate sale company, beyond the consignment fee?"  Lastly, "Will your prospective company arrange for the transportation of items to the consignment shop?"
9. How do we communicate with each other?
The key to any good working relationship is communication.  You'll want to know how a company will communicate with you, and how often.  When checking references, be sure to ask previous clients about the company's communication habits.  Did they communicate in a timely manner and when they said they would?  Also, be sure to ask a prospective company's what is the preferred way that you should communicate with them.  If they like text messages, and you don't do text messaging, that might be a problem.
10.  Can you provide me a sample contract for review?
Asking for a sample written contract gives you something written to compare against other companies. Furthermore, it may give you ideas of services you will want to ask for that might not standard from the company you ultimately hire. Compare the sample contracts with the notes you've taken during the interviews.  Look for any discrepancies between what you understood during your interviews and what the contracts actually say.
Lastly, look for terms regarding cancellation and rescheduling.  If you need to cancel or reschedule for any reason, you'll need to know if there a fee.  Additionally, read the contract to see if there's a minimum window of time to cancel or reschedule.
Conclusion
When you have the responsibility of dealing with a family member's estate, the stress and time commitments can be overwhelming.  You can alleviate much of the stress by conducting interviews with several estate sale companies, and hiring the process out. By starting with the questions mentioned above, you can make sure you've hired the best company for your situation.
You often get what you pay for with estate sale companies
While you may be tempted to look for the company with the lowest commission, this may not help you get the most money.  For example, suppose you hire an estate sale company with a small mailing list, and no web site.  They may argue, "We're able to charge less because we have low overhead".  However, if you have a small turn out for you estate sale, you may find many items didn't sell, because of limited marketing.  Furthermore, if the company you hire doesn't have an certified appraiser, they may not recognize that piece of furniture or painting is actually worth $10,000 instead of $100.  The difference in experience could cost you several thousand dollars.
Lastly, if your simply overwhelmed by it all, you may want to consider selling the entire estate as a single transaction.  You can sell the stuff and the home to a company that buys houses.