Get an as-is cash offer for your home
"*" indicates required fields
Are you burying a St Joseph statue to help sell your house?  Sounds crazy but some people are convinced that offering a prayer to St Joseph will help them sell their house faster.
Joseph, who was the earthly father of Jesus has been venerated as a saint by the Catholic church.  He is also reputed to help people sell their homes.  We know very little about St Joseph from the Bible other than that he was a carpenter.  Today, he purportedly looks after people's houses and those trying to sell them.  During this past year, in a crazy hot real estate market, we toured a home for sale and found a two foot statue of St. Joseph in the yard; presumably to help sell the home.
Some people are convinced that burying statues of St Joseph can help them sell their home quickly.  St Joseph has even become known as the "underground Realtor®" because of this.
Patty Bonadies, a Catholic and a real estate agent, buried a St Joseph statue in her front yard to help her sell her own home.  She even planned on digging up the statue after the sale of her home and burying at her mother's home to help sell it.
Realtors® say lot of crazy things to sell houses.  But, if you think it's odd that a Realtor® would revert to using a statue to sell houses, continue reading.
Does burying St Joseph statue help sell your house?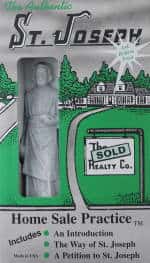 The practice of burying a statue of the saint is highly controversial. However, there many who wouldn't consider selling their home without calling on the saint.  As of the writing of this article, over there are over 2,700 positive reviews on Amazon of people claiming that the statue helped them sell their home.  Only 600  claim it didn't work.
Some sellers who hadn't buried a status of the saint report having their homes sitting on the market for months without being able to sell.  These same homeowners report selling their home within just a few days of burying their statue.  Others, report not even having time to bury the statue, because they were in escrow after praying the prayer to St. Joseph.
The belief in burying a statue of St Joseph and the accompanying prayer has become so prevalent, that Snopes has even addressed it.
History of St Joseph statue tradition
Like many urban legends, it's unclear where the tradition of burying a St Joseph statue began.  Most attribute it to a group of nuns in the 1500's who prayed for property to build a convent on.  After much prayer, a property was donated to the nuns. While the convent was being built, a statue of St Joseph as found.  The nuns attributed the answer to their patron saint.
In the past 40 years, there has been an increase in the number of people using the statue to help sell their home.  Even those who are not particularly spiritual, have been known to bury statues of the saint to help sell their home.
Realtors® burying St. Joseph statues to sell house?
When it gets hard to sell a home, Realtors® may even resort to burying St. Joseph statues.  In the early 1990s when houses were hard to sell, the Century 21 office in the San Fernando Valley had ten different real estate agents burying St. Joseph statues in their client's yards according to an LA Times article.  So many Realtors® were buying these statues, the local Association of Realtor® office in Orange County which sells supplies to agents, would stock 50 for their agents because the demand was so high.  Regina Crabb, another real estate agent was buying them by the hundreds when the market was slow.
Realtor® suggestions for burying the statue
Different Realtor's® have different suggestions for burying the statue.  These are just some of the varied/conflicting directions for burying your St Joseph statue.
Bury it near the For Sale sign, facing the house
Bury him upside down, so he has to work harder (Not sure why you have to motivate a saint to work hard on your behalf)
Face it away from the house, indicating you're leaving (Or in one person's case, it sold the house across the street.)
Bury it in the backyard, in a flower pot (when you don't have a yard)
Bury him on his back, so that he points toward your house
A catholic priest's response to burying statue of St. Joseph
Fr. Rich Pagano, a Catholic priest says people ask him to bless the statues regularly. They say, "Father, will you bless this?  I'm trying to sell my house."  He continues, "This drives me nuts.  They actually make these statues of St. Joseph to sell your house, and on the back, there are like [directions] 'bury him upside down and in the ground'."  He says, "if you want me to bless your statue, don't bury it.  Instead place it in a place of honor in your home and keep him there".
Prayer to St Joseph to sell home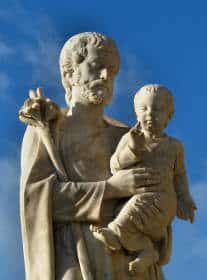 Amazon, as wells as TheCatholicCompany.com sell Saint Joseph Home Sales Kits along with a suggested prayer card.  There doesn't seem to be  a consensus for the correct prayer to pray for your house to sell.  However, the following prayer is suggested by Praywithme.com:
O, Saint Joseph,
you who taught our Lord the carpenter's trade, and saw to it that he was always properly housed, hear my earnest plea.  I want you to help me now as you helped your foster-child Jesus, and as you have helped many others in the matter of housing.  I wish to sell this house quickly, easily, and profitably and I implore you to grant my wish by bringing me a good buyer, one who is eager, compliant, and honest, and by letting nothing impede the rapid conclusion of the sale. – PraywithMe.com
I'm a firm believer that prayer works, but I'm not sure it needs to be a formula.  It's not magic, and definitely shouldn't be manipulative.  But sometimes the answers to prayer are closer than we think. For the 2700 successful home sales reported by Amazon users who bought a St Joseph statue, I'm guessing the real power was in their prayer. Not, the statue of St Joseph that they buried in their yards..
4 Tips for selling when your home won't sell (even if you did bury a statue)
Under even the best circumstances, selling a home can be difficult.  Here's four tips for selling your home quickly.
1.  Price it right
It doesn't matter how much you feel like your home is worth.  Fair market value is found when a willing buyer and willing seller can agree on a price.  If you aren't getting any offers or showings, that's a good sign that buyers think you have priced your home too high.  Don't put a high price on your home thinking that if buyers want to offer you less, they can.  The reality is buyers don't like to negotiate in our culture.  If they think the price is too high, they simply move on to other houses where they don't have to negotiate.
2.  De personalize and professionally stage
I say it all of the time, "professional staging gives your home a Better Homes and Garden feel".  It invokes an emotional response.  When buyers walk into a clutter free, staged home, they almost always want to sit down and imagine themselves living in your home.
However, when a buyer sees personal pictures and memorabilia, they feel like they're a guest in your house.  That's the opposite of what you want buyers to feel!  You want your buyers to feel comfortable enough to sit down and feel like they're in their own house.  Remove your books and collections that reflect your political or religious views.  In addition, put as much furniture and personal belongings into storage as you can afford.
For more information on how to stage your house, be sure to check out our guide, How to Stage a House to Sell Quickly.
3.  Use a professional photographer
When I was growing up, everyone shopped from the Sears catalogue.  They would look at the pictures and read the descriptions and say, I want that, before they would ever look at the price.  The Internet has changed how we shop.  However, what makes people buy, still remains the same.  People shop with their eyes, before they shop with their pocket books.
Ninety percent of buyers make a yes/no decision regarding houses by viewing them online, without ever leaving their home.  The pictures of your home, must sell your home to potential buyers.  A professional photographer will cost you less than $200, but can make you thousands more.
4.  Consider selling directly to a cash buyer
When you need to sell quickly, you can skip the traditional, stressful ordeal of selling your home.  Selling a home the traditional route, requires buyers to obtain a home loan which can take weeks, and complete several days of inspections.  If all goes well, hopefully you can still close in 30 to 45 days, assuming your buyer suddenly can't get a loan at the last minute.  These two issues alone –  home loans and inspections – are the most common causes of home sales falling out of escrow.
Selling to a company that buys houses with cash, eliminates your buyer's bank loan contingency.  Secondly, investors who buy houses, can typically perform their inspections the same day and don't require the seller to make any repairs.  These two benefits can often mean the difference between selling your home quickly, or having your house sit on the market until the right buyer comes along.
For more information, on selling your house quickly, whether or not you have a St Joseph statue, check out these 10 Steps to Selling Your House Quickly, in any market.