What our clients say about our great service...
Kim S.  "a great offer …treated very fairly."
Brad Wickliffe – "… I could not recommend his services more…"
Robert Williams – "I talked to a couple of Realtors (first)… found going with Robert Taylor was a better value.  I'm very satisfied".
I used to worry about others who would promise fast cash but disrespect me and my home. Robert was helpful, friendly, took the time to answer all my questions, and took care of me and my home respectfully.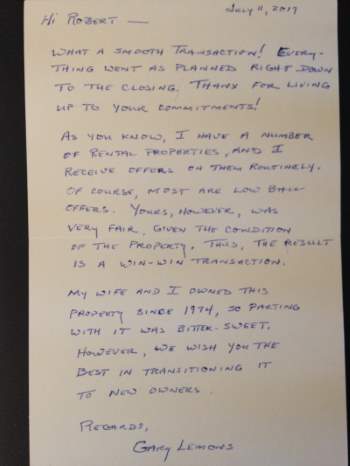 What a smooth transaction! Thanks for living up to your word. As you know I have a number of rental properties and I receive offers on them routinely. Most of them are lowball offers, yours however was very fair... the result is a win-win.
Working with several investors, Robert is my favorite! He is honest and fair to the current owners and puts care into the projects he does for the future owners. Your won't be sorry!
I want to THANK YOU for your prompt response and the painless process that you setup for us. I can testify to the great service that we received from you (I hope you don't mind that I now do consider you as a personal friend, for that's how you made me feel).