Wondering how to sell a house by owner?  Are you hoping to save on real estate commissions?  Maybe you have a transaction that is simple and want to sell without an agent?
In this article, we will explore the primary challenges of selling For Sale By Owner (FSBO) – without a Realtor.  Then, we'll provide plenty of information to help you quickly sell your home yourself.
The Challenge of Getting Agents to Show Your FSBO
Your biggest challenge of selling your house by owner will be getting real estate agents to be willing to show your house.  You might think that real estate agents would want to show your home, especially if you are willing to pay them their commission split.  Nothing could be further from the truth.
We'll look at why this is a problem, and then later how you can overcome this challenge.
Majority of buyers will be represented by agent
The first thing you must realize if you want to sell your house on your own, is that the majority of your buyers will be represented by a Realtor.  According to The Real Estate Trainer, a website dedicated to training real estate agents, the number of buyers using real estate agents is at a 14 year high.
You may ask, why does this matter?  It matters because you must convince two groups of people that your property is worth looking at.  First you must convince potential buyers to want to look at your property.  Second, you must convince the buyers' agents that they can easily show and help their client buy your property.
Realtors like to work with other agents
A common complaint among For Sale By Owner sellers is that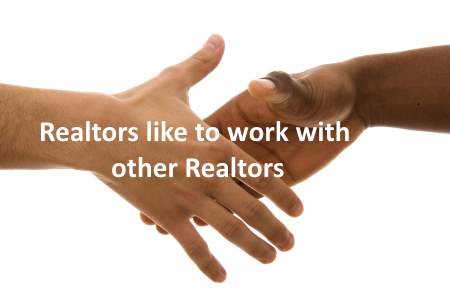 I was recently looking at houses in the Sacramento market that were for sale.  I was with a Realtor (I'm not a Realtor by the way) looking at houses that were for sale.  We came to a house that was for sale by an out of town agent.  We went up to the house and looked for the familiar Realtor electronic lockbox.  The first thing we noticed was that there was no lockbox.
The instructions on the Multiple Listing Service (MLS) were to text the agent for access instead.  My agent texted the other agent, but didn't get a response.  After several minutes, without a response, we moved on to look at other houses.
Now, this wasn't a For Sale By Owner, but it represents what frustrates many agents in their job – wasted time.  The agent who represented the seller in this case, wasted 30 minutes of my agent's time.  What the selling agent will probably never know, is that my agent will never show one of selling agent's houses again.  Unfortunately, previous for sale by owner listings have had similar results for agents.  As a consequence, they have become convinced that FSBOs are difficult negotiations and waste too much of their time. In the Realtor's® mind, there are easier houses to sell.
In the Realtor's® mind, there are easier houses to sell.
A Buyer's Agent's Job is Time Intensive
An agent who represents a buyer has a very labor intensive job.  Their clients often come with a list of 5-6 properties that they want to view and will spend the majority of their agent's day looking at these houses while they try to make up their minds.  Many agents actually dislike representing buyers because it is so time intensive.  They would prefer to actually list houses for sale, rather than show them to clients.  Agents perceive FSBOs as much more labor intensive, but we'll who you tricks to overcome that perception.
How Real Estate Agents Think
There are many levels of experience with real estate agents.  Some who are very organized and those who aren't.  Experienced agents often grumble about having to hold another less experienced agent's hand in the escrow process.  They dislike having to call the other agent and remind them to send a form or that one of their forms needs to be corrected.  One of the first things an experienced agent will do is look up how long another agent has had their license.  The want to know how many transactions the other agent has done.  The reason – they don't want to be holding the hand of the other agent if they can avoid it.  Realtors want easy, quick escrow processes. They dislike the management side so much that they actually people called Transaction Coordinators to do that for them. We'll talk more about Transaction Coordinators a little later on.
What Realtors Fear with FSBO's
If Realtors are worried about having to manage another Realtor's job, imagine how much more they worry about a sell house by owner property listing.   Buyer's agents have the perception that FSBO sellers are "difficult to work with and require extra time over working with a listing agent".  They will always be wondering if somehow they will have to be doing the work for both sides of the transaction, but for only a fraction of the commissions.
What the Agent's Broker Fears with FSBO's
Their broker's wonder if the transaction goes sideways, who will they be able to call to get things back on track.  In a traditional sale, if there was a problem, one broker would call the other agent's broker on the other side of the transaction to try and smooth things out.  In the case of a FSBO, who do they call that isn't directly in the transaction?
If you want to sell your house by owner, then you will have to overcome all of the fears above.  We'll cover techniques and tips to help you do that below.
What Realtors and Brokers Fear Most About FSBO's
If you have ever bought or sold a home through an agent before, you know that there's lot's of different papers to sign.  If you read the documents you are asked to sign by your Realtor, you will find that the majority of the forms protect the agent and their broker in case of a lawsuit.  Seller's are sued on regular basis, as are the buyers' agents and brokers by their clients.
As a result, the California Association of Realtors has a full time legal team who helps write their contracts to protect their clients – the agents and brokers.  As a broker told me years ago, "It's not buyer beware.  It's seller beware."
Agents and real estate brokers can buy insurance to cover them from mistakes of errors and omissions.  However, that still doesn't eliminate the fear of being sued.  Most real estate agents and broker have been sued at least once from a transaction going south.  Usually, by their own clients.
The reasons are myriad.  The seller doesn't disclose something about the house, or a problem occurs with the house.  The perception is that it was their Realtor's fault and suddenly the Realtor is in a lawsuit.  When a Realtor sees a FSBO, they worry about lawsuits.  Your job as a For Sale By Owner seller is to eliminate this fear by being as professional as you can be.

Tricks to Overcoming Buyer Agent's Objections to Sell House By Owner Listings
We've previously said that your biggest obstacle in selling your home yourself will be getting buyer's agents to show your home.  Let's take a look at what will help overcome some of their objections.
Offer extra incentives to the agent

It's a sad statement, but agents look to see how much commission the seller is offering them before they encourage their clients to see a house.  If the commission is low, less than 2.5%, they will probably hesitate before recommending the house.  As one agent stated, "If the agent isn't being paid at all, or isn't being paid very much, they have little incentive to encourage the sale".

If you offer the buyer's agent more commission, that may increase their willingness to work with you.  Consider also giving a monetary incentive to any offers that close at full price in the next 30 days.  It is not uncommon to see sellers offer $1,000-$2,000 as an extra bonus to entice agents to show a property to their clients.  Usually, the buyers never knows that the agent is getting an extra kickback from the seller for steering their clients toward a property.

Make your house easy to show

Remember the story above about how one agent made it difficult to show their listing to us?  Make it easy to show your house.  Put a Realtor electronic lockbox on the front of your house with a key to the house so the agent can just bring their clients by.  If you don't have access to a Realtor electronic lockbox, buy a contractor box from your local hardware store and make sure the combination is available in the confidential agent remarks of the Multiple Listing Service.  These contractor lockboxes will have a combination code that will allow the agent to access the key to show your house.

I would also recommend getting a month to month alarm system installed in your home and create a pin that you give only to agents.  These systems can send you text messages whenever someone enables or disables the alarm and will tell you who disabled the alarm.   This way, you will know exactly when an agent has shown your house if you are away.

It also never fails that an agent will show up at your house with their client and say, "I'm sorry. We're just in the area and saw your sign. Can we see your house?".  When this happens you need to have an escape plan.  Have a place planned out to take the kids or to be able to leave quickly so you can get out of the house without too much stress.

Remove any obstacles to showing your house

I'm always surprised by real estate listings where there's limited showing times.  They might have instructions that limit the showing times to weekdays after 5pm or Saturdays from 10-12.  If you want to sell your home quickly, you need to be able to make it easy for prospective buyers to view your home – at any time.

Many times agents don't even read the showing instructions before taking their clients to a property that limits the showing times.  It's not uncommon for an agent to show up at your front door with their clients unannounced.  There standard response is, "I'm sorry.  I thought the house was vacant."  There's not much you can do about the unprofessional agent  However, if you can afford to live somewhere else while you are marketing your home, do it.  This will allow you the ability to not limit the showing times.

Consider hiring a transaction coordinator – the buyer's agent does

As mentioned before, most agents are afraid that they will have to remind you about certain forms they need or that they will have to help you with the forms.  They dislike dealing with the paperwork so much, that many of them hire Transaction Coordinators (TC) themselves to manage the paperwork trail for them.

Transaction coordinators can help you to assemble and organize all of the buyer's paperwork.  In addition, they help to make sure that the appropriate documents have been signed on time.  They may also be licensed agents.  Their fees are usually minimal and will show the other agent that you are well organized.  You can add the transaction coordinator information in the private agent remarks (described next) of the MLS so that prospective agents know you will be using a TC.
More Tricks to Overcome Buyer Agent's Objections to Showing your FSBO
Use the Multiple Listing Service (MLS) to list your FSBO

This service is only available to Realtors who subscribe, but it is their go to source for all information related to the sale of your home.  There are multiple companies that will list your home in the MLS for a flat fee.  They are know as flat fee service companies and you can google for them.  Their fees are typically around $500 or less.  Not only will you put your property description and photographs in the MLS, but you can also add special notes in an area that only the buyer's agent can see.  This area is known as the Confidential Agent Remarks.  You might include special incentives mentioned above, who you are using as your TC, or it might be your contractor lockbox combination code.

Attach any reports in the Multiple Listing Service

Do you have any reports on the property?  Pest reports, home inspections, appraisal reports.  You can attach all of these to your MLS listing and they will be available to any potential buyer's agent.  This will help show the agent you have done your homework and are prepared.  Don't be hesitant to share reports, even if they negative or you don't think they're important.  You are required by law to give buyers any reports you have as part of your disclosures.  Besides, it's the right thing to do.

How to get potential buyers to ask their agent to show your house

One of the best things you can do to overcome agent objections is to get the potential buyer on your side.  You want a potential buyer to say, "I have got to see that house".  Most buyers are shopping for homes on the Internet and making decisions long before physically seeing your house.   Therefore, your house had had better pop off of the screen at them.

In a previous post I wrote about six simple steps to sell your house faster in Sacramento. and gave several suggestions for making your home appealing to potential buyers.  Most of the items I cover, are relatively cheap to do.  All of them will help your house have much more appeal, even before your prospect physically comes to your house.

Consider renting a storage unit and moving that majority of your possessions to storage.  You want your home to both look and feel spacious.  Dark furniture needs to go.  Clutter on the kitchen counters and cupboards needs to go.  Give a fresh coat of paint to your house where needed and by all means paint over the non neutral walls.  Choose colors that reflect light rather than absorb light.

Use Professional photographer

Not only is a picture worth a thousand words, but a good picture is worth thousands of dollars.  According to InMan Real Estate News, listings with professional photos sell for more money.  Remember our previous point about users shopping online first?  Great pictures sell more than anything else about hour house.  Don't even think about skimping and using your camera phone.  If you do, you'll have to have 3 pictures just to show the living room and it will look amateur.

The professional photographer will have the right lens so the picture includes the entire room.  Hire a professional photographer who will have the right lighting and the right equipment to make your house visually appealing.  You can typically hire a good photographer to take pictures of your home for under $200.  Do this one thing alone, and your listing will look better than 99% of the other agents' listings.

Determine who will show the house to prospective buyers

This applies if you are still living in your home and want to be present whenever there a prospective clients in your home.  If this is a concern, consider ways you can overcome this concern.  Avoid, anything that delays or hinders a buyer coming to your home immediately.  If you need to be there, make sure someone will always be available to run home in case a buyer needs to see your house.  Remember, you are trying to make it easy for an agent to show your home.  You must eliminate any excuses they may have.  If you can't find a way to do this, you may want to consider selling to a cash buyer to avoid a myriad of people walking through your home.
Determine How you will Market Your Home
MLS

The MLS or Multiple Listing Service is a must have.  As mentioned before, this is the first place agents look when trying to identify properties to show their clients.  If you are not a Realtor, you will need to find a Flat Fee Listing Service to put your  house on the MLS.    Flat Fee Service companies offer sellers a way to enter "into an 'à la carte service agreement' with a real estate broker who accepts a flat fee rather than a percentage of the sale price for the listing side of the transaction."  These companies offer various services including listing your home on the MLS, providing an electronic Realtor lockbox for agents, required disclosures, etc.

Craigslist

Most people think of Craigslist as the go place to list FSBO's.  This would definitely be the site you would want to use if you are looking for buyers who are looking on their own without a Realtor.  Most of these shoppers will be looking for a bargain.   if you are looking to completely avoid Realtors, a cash buyer may be a good option for you.

Internet Marketing

You can list your home for free on Zillow and on Trulia as well as other websites to show to prospective buyers.  VFlyer.com is a fee base service  that can send emails to every real estate agent in your market with pictures and description of your home.  Some of the Flat Rate Service companies will also push your listing out to all of these sites as part of their package, a process known as syndication in the industry.  Make sure you check with any service you are paying for to know who they are pushing your house to.

Sign in Front Yard

This is up to you. In my opinion, signs rarely sell houses.  They sell the listing agent's reputation.  The main reasons agents put signs in your yard is to promote the listing agents or broker's name.  Other agents use signs to make agent's clients feel like they are doing a good job marketing their house but rarely sell houses.  In areas where vandalism is high, I recommend not putting signs in the yard.  If you have a nice house, and follow all of the suggestions we list here, you won't need a sign.  However, if you are going to skip the MLS or use a Flat Fee type of service, your FSBO will definitely need a sign.  The other reason you may need a sign in your yard is because you are trying to sell your house only to people who are not represented by an agent.
"Signs to make agent's clients feel like they are doing a good job marketing their house but rarely sell houses
 Determine what Reports you Will Order Before Listing your FSBO
Pest Inspection

Every buyer's agent will recommend that their buyer get a pest inspection done before buying a house.  It's not just about termites, which can be quite expensive to eradicate, it also looks for water damage and wood fungus.  Pest inspections will check the eaves of your roof, the siding on your home, decks, bathrooms and kitchens looking for any sign of water damage or fungus.  For less than $150 you can order a pest inspection yourself.  There are benefits to ordering a pest inspection before you try to sell your home.  The primary benefit is you will have a better idea of what repairs may need to be done for a buyer's loan to pass on your home.  The one caveat, you will need to provide the report to prospective buyers, even if you have correct the problems.

When your pest inspector comes to do their inspection, make sure you follow them around and get your hands dirty.  Ask questions as you go.  This way you'll be sure of what it is they are seeing and can better order any repairs that you will need to do.  Take a moment to read Tips to Avoid Pest Inspections Woes for some helpful advice .

Anything that the pest inspector classifies under Section 1, will require correction in order to qualify for government back loans like FHA, VA and USDA.  You are not required to use the same company that performs your pest inspection to do the work.  However, if you do, they'll typically waive any re-inspection fees.  If you don't want to correct the inspection items, you will need to find a buyer that isn't purchasing with one of the loans above.

If you obtain a clear pest report on your home, it is good for three months from the date of inspection.  This is always something that should be attached to your MLS listing.  This tells prospective agents and buyers about any repairs your have already done and the condition of your property.

Home Inspection

Another inspection that any agent will require their buyers to get is a home inspection.  This is about a 3 hour process where electrical, plumbing, heating and air, as well as many other checks of the property are performed.  Many sellers hate these inspections as they feel that the inspectors are just being nit picky.  Most inspectors don't make the list of items they check.  Instead they use software based systems to guide them.

Just because something shows up as a problem on a home inspection, doesn't mean you have to fix it.  They will often flag older electrical panels, HVAC and hot water systems simply due to their age.  Sometimes, these inspectors will perform the work for a fee and then offer a 2 year home warranty on all of the systems.  If you can obtain a home warranty or a roof certification, these are definite items to include in your MLS listing description.
Determining the Price
Any home will sell, no matter the location, the floor plan or the condition – for the right price.  Probably the biggest mistake sellers make is not getting outside expert opinion on price.  There are lot's of websites that will give you a guesstimate of your home's value, but none of them can be as accurate as a local professional.  The worst thing you can do is to incorrectly price your home.  If you list your price too high, you will not receive any interest and soon your listing will become stigmatized.  If you list your price too low, you will obviously lose money.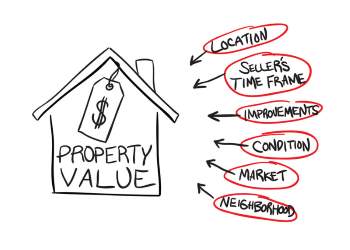 The value of an Appraiser
Unfortunately, most sellers are too emotionally involved to accurately set the price themselves.  This is where hiring an appraiser can help.  I rarely sell a house without hiring an appraiser first.  Even if I have a solid idea of what the market price should be, I still hire an appraiser.  For less than $500, you can hire a local appraiser to evaluate the price you can sell your home for.  Take the time to ask them what price you should list the house for if you want to sell in 14 days?  What price to sell in 30 days and 60 days? You may find that the price you have in mind is accurate, but doesn't fit the timeline you need to sell in.
How to make your case with your appraiser
Your appraiser will use various sources to determine what recent sales are most similar to yours.  What they may not know is what the condition of the these properties were like when they were sold.  If you are aware that a similar house down the street had serious electrical issues, let them know that.  If you have done lots of upgrades, let the appraiser know what upgrades you have done and when.   Though the appraiser is not required to use your suggestions, it can go a long way in justifying your case.
What to do if you disagree with the appraiser
Also bear in mind that appraising is as much an art as a science.  I've seen two appraisers appraise the same house for radically different values.  In this particular case, one appraised a house for $325,000 and the second appraiser appraised the house for $280,000.  Now you might say the lower priced appraisal was wrong.  However, I knew that if I tried to sell the house at the higher value it would take me several weeks if not months to attract a buyer.  If I sold at the lower value, I would be able to sell it in a matter of days.
Don't like the appraisal you received?  Hire a second appraisal and split the difference.  If you still disagree, it may be better that you not sell, than price your house above the appraised value.
Staging your Home to Get a Better Price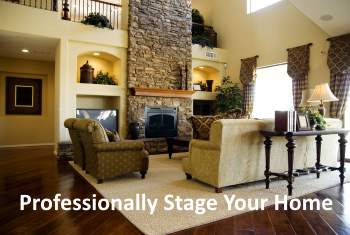 I'm a firm believer in staging your home professionally.  According to StagedHomes.com, staged homes sell for 17% more than non staged homes.  This is highly debated, but my experience is that professional staging can highlight the positive aspects of your home.  It can also make your home look more spacious and light.
Ask yourself if you ever look in a Better Homes and Garden magazine and say, "I wish I could live in that house" or "I wish my house looked that way".  This is the benefits professional staging brings to your home.
Professional stagers will bring in modern furniture, beds that are appropriate size for the bedrooms, dining room tables that fit the size and style of your dining room people feeling cramped.  Have  funky floor plan?  Stagers can draw buyer's eyes to the positive aspects of your home and overlook the negative aspects.
Have you ever been in the models of a new home development?  Did they put in dated furniture or leave the home empty?  No, professional development companies know the value of staging their model home.  Of course, if you are still living in your home this may not be practical.  If this is the case, put your stuff in storage and use a rent to own company's services.
What fees to expect at escrow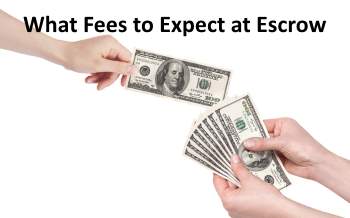 Any real estate transaction will have several fees involved.  Sellers and buyers are often surprised by how much money is spent on so called hidden fees.  And if you have made it this far reading this, then you are serious about selling your house by owner and saving money.
Selling agent's fees

Unless you intend to skip the MLS and sell directly to a buyer who isn't represented by an agent, you will have to pay the buyers' agents' commission.  As mentioned before, don't skimp here.  Make sure you are offering at least  2.5% preferably 3%.

Title fees

Buyers should never buy a property without title insurance.  This insurance protects the buyer (and future buyers) from any claims against the ownership of the property.  There might be an unknown relative who suddenly appears and claims an interest in the property.  It might be an easement through the property that you didn't know about.  This fee, though small (typically less than .05%) should be anticipated.

Escrow fees

Escrow fees pay for a third party to hold everyone's monies until all the contract conditions are met.  This includes earnest money deposits, purchase funds, and sometimes invoices for various inspections.  Once all of the contract requirements have been met, the escrow process will order the deed to be recorded and then distribute the funds as appropriate.

Natural Hazard Report Fee

This report is typically less than $100 but alerts the buyer to hazardous situations in the neighborhood.  These may include former mining claims, ground water contamination, sink holes, earthquakes, etc.  I live in area that has lots of old mine shafts from the California gold rush and find these reports interesting just from the standpoint of seeing where the old mining claims nearby.  Every few years you will hear about a house sinking into an old mining tunnel that was under someones house.
Determine who will pay which part of title/escrow fees
You can always negotiate who pays which fees, but it will make working with agents easier if you follow local norms.  Most local title companies will have a list of who pays what fees that agents are used to using.  Typically, these fees are reasonably split 50/50 between the buyer and the seller.  If you stick with the norm, then agents will have less to object to. I've had very strange reactions by agents when I asked for the fees to be broken down differently than the norm, even if it was in favor of their client.  Remember, we're trying to remove all of the objections a client's agent may have to showing and selling your property.
Required Seller Disclosures
As stated before, we live in a litigious and heavily legislated world.  Furthermore, what you might consider normal or common sense, a buyer may have no experience with.  Especially if they're a first time home buyer.  If your selling your house by owner, you have to extra careful to properly disclose.  You need to disclose everything that could possibly be interpreted by someone as being a potential problem, even if it doesn't seem like a problem to you.  If you're in doubt as to whether you should disclose something, then disclose it.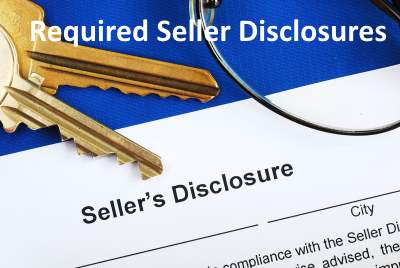 Ask yourself, "If I were a first time home buyer, would I want to at least know about something even if it was unlikely to change my desire to buy this house?".  Did you answer "yes"? If so, then you need to disclose those things while your buyer is still in love with your house.  Don't let them discover it two years later on their own when the excitement of buying your home has worn off.  Tell them while they are still in love with the prospect of buying your house, not later.
Depending upon the jurisdiction, there are several mandated disclosures that you are required to give.  The ones below are fairly typical.  Again, a Flat Fee Service can help you to determine which ones are required in your area.
Don't Make These FSBO Mistakes
After writing this article, we asked several Realtors what mistakes they saw FSBO's making over and over.  As a result, we felt it was important to write another article "The Top Five Mistakes FSBO's Make".  In it we identify the following five mistakes sellers make when trying to sell their home on their own.
Lack of professionalism
Bad Photos
Not Willing to Pay Market Commissions to Buyer's Agent
Making Home Difficult to Show
and Not Communicating that Sellers are willing to work with Buyer's Agents.
We've touched on a few of these and how to overcome them.
Selling Your House without a Realtor can be done
Follow the steps we've outlined above and you should be well on your way to selling your house by owner.  Assuming your house doesn't have any glaring defects the above steps should give you more than enough tools to overcome agent fears.
Get an as-is cash offer for your home
"*" indicates required fields