Need to discreetly deal with an inherited hoarder home?
Do you have an inherited hoarder's house filled with piles of unfinished projects, worn out appliances and animal smells? Roughly 2-4% of the people in the world struggle with hoarding disorder.  Signs a person has a hoarding disorder include: keeping lots of things that are useless to most people and items cluttering the house preventing rooms from being used.  The result is, the home becomes almost unusable for its intended purpose.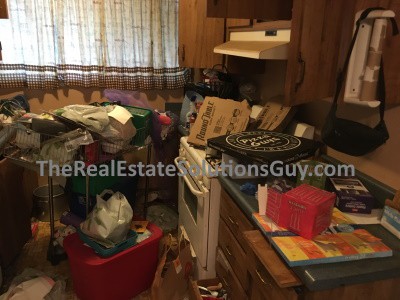 Get an as-is cash offer for your home
"*" indicates required fields
As the heir or executor, maybe you're trying to decide if you should de-clutter the house and sell it, or if you should just sell it as is.  If you're feeling weighed down with indecision and the condition of your house, we can help.  We offer a discreet selling solution for people with cluttered houses.
Things may have simply gotten out of hand either for you, or for an elderly family member.  Illness, job loss, or simple indecision can lead to piles of projects left incomplete.  Soon there are worn out appliances and mounting repairs.  Sometimes, the situation can become so bad, that code enforcement red tags the house.
More than just about the stuff
It's not about the stuff.  As one woman recently shared after inheriting her mom's hoarder house,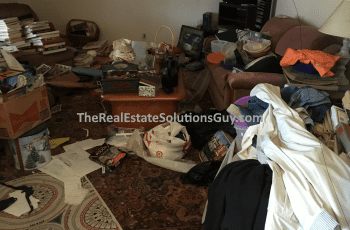 The bills are coming due like insurance and
property taxes
.  I'm the only one that lives close by; all my siblings live at least an hour away.  I'm concerned with how much work and effort it will take; not to mention the travel costs and time it will take to clean the place up and sell it.  Some of the family members have suggested we selling everything online.  I'm afraid that will take so much time and effort. 
I just want to get rid of the house so I can pay mom's bills and move on with my life.

I inherited a "Whole lot of Nothing"
A Newsweek article that really touches on the difficulties of dealing with inheriting a hoarder home states:
"It's a scenario that's all too familiar to
children of hoarders
, who are burdened with far more than funeral arrangements,
probate
, and grief. They must also deal with the overwhelming piles of stuff that a hoarding parent accumulated over the years—in apartments, in houses, in storage facilities, and garages. The items themselves may vary, but for many children of hoarders, the result is the same: the unwanted inheritance of a whole lot of nothing. –
What Happens When a Hoarder Dies
Cats, dogs and rats
Many times, hoarders have multiple cats or dogs for pets.  The result is often years of animal urine and feces throughout the house.  And with the piles of unfinished projects, stacks of old magazines, papers and stuff, it can become a home for rodents.  It's not uncommon for rats to invade the home.  Not only can the home be hazardous, it can leave the home smelling of animal feces and urine.
It's more than just renting a dumpster
The costs of cleaning up the mess of an inherited hoarder home can be much more than families imagine. When most people think of the dollar costs, they think of the cost for getting rid of all of the garbage.   Rarely do they anticipate the extra costs of dealing with hazardous waste, working around the rodent feces and additional hazards.  According to the same Newsweek article, the costs of cleaning a hoarder home can range from $5,000 to $20,000. Sometimes, if the hoarder is still alive, the problem comes back within just a few years.  One city spent $16,000 cleaning up a hoarder home, only to have to come back to the home within the year for the same problem.
Selling a hoarder house as is
If you're considering selling a hoarder home, you need someone professional, discreet and sensitive.  Someone who won't be overwhelmed by the problem and able to deal with the situation.  You want someone who won't embarrass you or be condescending and judgemental.  This is a service that a professional home investor can provide you.
A discreet investor can also save you from the emotions of dealing with your family member's belongings.   They can buy your home as-is so you don't have to make any repairs. Best of all, they allow you to close at your convenience, instead of waiting for someone else's schedule.
In most situations, homes are best sold using a licensed real estate agent.  Honest investors will readily admit when they're not the best solution for your situation.  However, when it comes to difficult a situation like a hoarder home, they are often the best solution.  You are  probably going to be better off in the long run selling to an investor.  With an investor you will usually net the same amount as if you sold it through a Realtor®, but, in much less time.
Additional reading:  Steps to taking over the responsibilities of an inherited house