Get an as-is cash offer for your home
"*" indicates required fields
Thinking of selling your home?  Have questions about when is the best time of year to sell your home?  In this article, we look at what the best time of year is to sell your Sacramento home, with the least amount of inconvenience and for the highest price.
What time of year is best time to sell my house?
The common thinking is that Spring is the best time of the year to sell your house.  However, all real estate is local.  That means that what is the best time of the year for one city or county, isn't necessarily the best time of the year for another.  Weather patterns, schools systems and economics all play a role in choosing the best time of the year to sell your house.
Even if you're not ready to sell now, determining the peak month and day to list your home, should help you plan ahead and possibly earn a few extra thousand dollars on the sale of your home.
Note:  See our articles Preparing your home to sell in the Spring and Sacramento Housing Inventory Lowest in Decades.
What time of year is best to sell my home for the highest price?
For Sacramento County, the time of the year you sell your house can have a modest, but noticeable impact on price.  The chart below shows the Percentage of Original List Price that sellers received for their homes in Sacramento.  Sellers who listed their homes in May and June tended to receive full price for their homes, compared to listing their homes at other times of the year.
Todd Teta of Atom Data, a company that analyzes the national housing market, agrees.  He says, if you look at the historical trends "the second quarter of every year has always shown a quarterly increase, going as far back as 2005".
Sellers selling in other months took a minor percentage hit of two to three percent off of their original list price.  The percentage is small, but the dollars are not.  The median priced home in Sacramento was $385,000 in September 2019.  This means that on average, sellers selling in September gave up $7,700 in profit that they could have received if they had listed their home just four months earlier.  Sellers who wait until late Fall may forfeit up to $15,400 off of their sales price for a median priced home.  In October 2021, the median home price was $499,000 making the dollar amounts even greater.
Best month by rank
Atom Data also supports similar conclusions at the national level.  Atom Data looked at the sales of 28 million single family homes across the U.S. over the past eight years.  They then ranked each month by the premium sellers received.  Premium was defined as the amount of money sellers received for their homes over Atom's computer generated Automated Valuation Model (AVM).
| | | | |
| --- | --- | --- | --- |
| Month | Median Sales Price | Median AVM | Premium |
| June | $200,000 | $183,124 | 9.2% |
| May | $190,000 | $176,875 | 7.4% |
| July | $199,500 | $186,000 | 7.3% |
| April | $184,063 | $173,000 | 6.4% |
| March | $178,000 | $167,782 | 6.1% |
| August | $195,706 | $185,000 | 5.8% |
| February | $170,000 | $160,938 | 5.6% |
| September | $190,000 | $181,507 | 4.7% |
| November | $188,173 | $181,000 | 4.0% |
| January | $170,000 | $163,909 | 3.7% |
| October | $188,000 | $182,000 | 3.3% |
| December | $188,000 | $182,000 | 3.2% |
The assumption of course is that AVMs don't necessarily adjust for the seasons of the year.  The data also doesn't indicate if sellers received more than their asking price, only what homes sold for versus a computer's estimated value.  However, even with these limitations, the data clearly shows that Spring is generally the best time of the year to sell your home.
Historically what has been the best time of year to sell a house?
The chart below shows the Average Days on Market (DOM) versus the Months of Inventory for the Sacramento market.  On average, the months with the smallest time on market have been late May through July.  Note the correspondence between the Months of Inventory and Days on Market.  The amount of inventory leads the Days on Market by approximately two months.  The Months of Inventory doesn't just indicates the amount of inventory you're competing against.  It also tells you when you need to list your home in order to be ahead of the curve in order to sell your home faster.
If you want to have the least disruption to your daily routine in selling your home, the best time of the year to list your home is April and May.  Fortunately, this also corresponds to months of the year that you are most likely to receive full price offers for your home.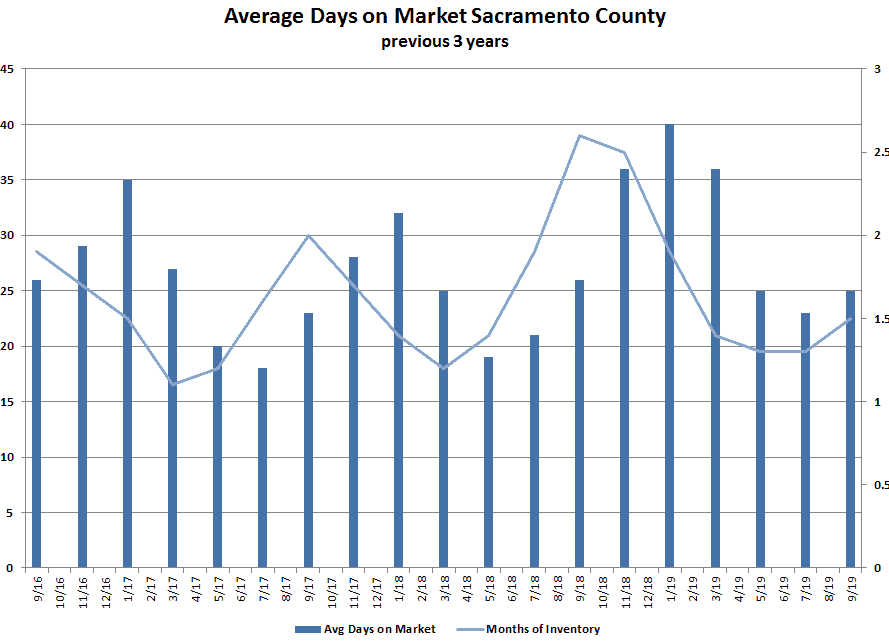 What is the best time of year to sell your home in 2021?
The COVID pandemic and coastal city migration has not changed best time to sell.  What is evident is the quick rise of a seller's market.  Both the time to sell, and the percentage of asking price have been affected.  The chart below shows the percentage of list price homes sold for in Sacramento County from October 2018 to 2021.  Clearly after buyer's became accustomed to buying homes during the pandemic, the bidding wars began.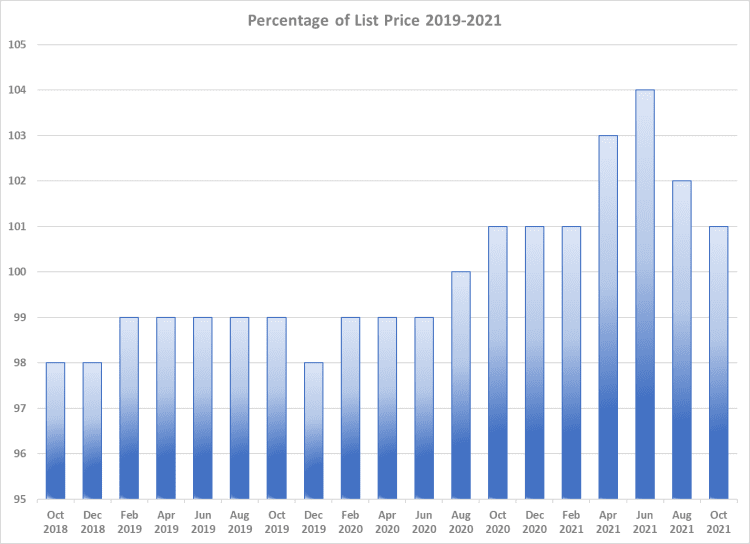 The second chart shows that it takes sufficiently less time in 2021 to sell your home than in the past.  In 2021the average Days on Market is roughly half of historical norms.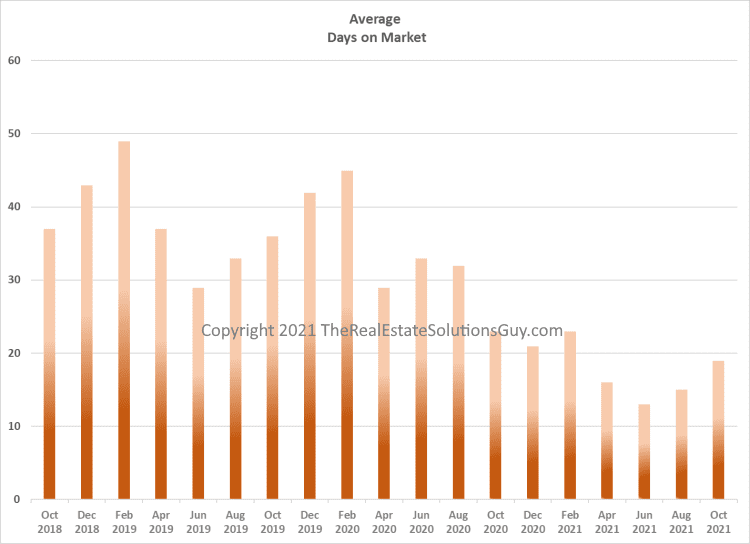 What day of the week is the best day of the week to list a house?
According to a study by Redfin, the best day of the week to list your home on the Multiple Listing Service (MLS) is Wednesday and Thursday.  Homes listed on Wednesday command a slightly higher price ($2,000) over homes listed on Sunday.  In addition, homes listed on Wednesday, sell two days faster than homes listed on Sunday.  However, homes listed on Thursday sell five days faster than homes listed on Sunday.
Part of the reason for listing your home on Thursday is driven by the Internet.  Prospective buyers are already receiving electronic notifications about new homes listed for sale on a daily basis.  Emails that arrive toward the end of the week (but not Friday) attract the attention of home buyers who are planning their weekend.  If your home doesn't hit the market until Friday or the weekend, buyers may be too busy to open their emails or adjust their plans.  Therefore, it's important that you work with your real estate agent to make sure that your home will be ready for listing before the weekend.
What time of year should I avoid trying to sell my house?
Though houses will sell any time of the year, there are certain times of the year that selling may be slower.  If you have a home that has seasonal extremes, you may want to avoid selling during those seasons.
Seasonal Bad Weather
For example, years ago an investor friend of mine flipped a home in the mountains.  The home was surrounded by beautiful pine trees, but in the winter months every driveway needed shoveled of snow.  The home might have sold quickly in the summer, when potential buyers weren't thinking of snow.  However, my friend was trying to sell the home in late Fall after snow season started.  Finally, he took the home off of the market and relisted the home in the Spring when the snow was gone and the home sold quickly.
It doesn't have to be cold weather that slows down sales.  It can also be difficult to sell your home during hurricane and tornado season, as well as areas that have triple digit heat during the summer.
Christmas Holidays
You'll also want to avoid listing your home between Thanksgiving and Christmas.  You'll still have people viewing your home, but somehow, Christmas activities tend to distract them from actually writing an offer.
We listed a home for sale the week after Thanksgiving recently.  Several potential buyers went through the home, but only a couple of offers.  The offers we did receive, seemed unlikely to be able to actually close.  We decided to take the home off the market and relist the home in January.  Within two days of our taking the home off of the market, we received calls from five different agents.  Each agent said that their clients had been wanting to make an offer, but had been too busy with the holidays.
What to do if I need to sell my house now?
We're not always given a choice as to when we sell.  Job transfers, changes in family structure and health changes can all impact when we have to sell.  Even if this isn't the best time of the year to sell your Sacramento home, homes sell every day in the region for close to full value.
Fortunately, there are several things you can do to improve the chances of selling your house quickly, in any market.
If your home is in good condition, finding and working with an experienced, local real estate agent should be your first choice. Work with your Realtor® to determine what price you need to sell your home for in order to complete the sale in your time frame.  If you have already been working with an agent, but things aren't working out, you may need to break up with your agent and find a different agent.
However, if you have a home that needs repairs or has significant deferred maintenance, you may need a non traditional buyer like an investor or rehabber to avoid a long time on the market.  Buyers like the Real Estate Solutions Guy buys houses in Sacramento as-is, year round that are in need of repair.  These buyers can help you sell and avoid having to make repairs.  Best of all, they are typically cash buyers meaning they can close quickly without waiting for bank approval.