Wondering how our company's process for buying homes for cash works?
Our mission statement puts it best –  We offer a modern, transparent alternative to the traditional home selling process.  Total respect for owners, no matter the condition of their home.  Total relief, helping people get a fresh start without the need for cleaning or repairs.
Our goal is to make the home selling process as simple as possible, no matter the condition or location of your home.
No expensive repairs
No real estate commissions or hidden fees
No cleaning
And no strangers walking through your house
Our cash buying program can help you sell your house in 4 simple steps
Our home buying program takes only 4 steps and can usually be completed in 7 days or less.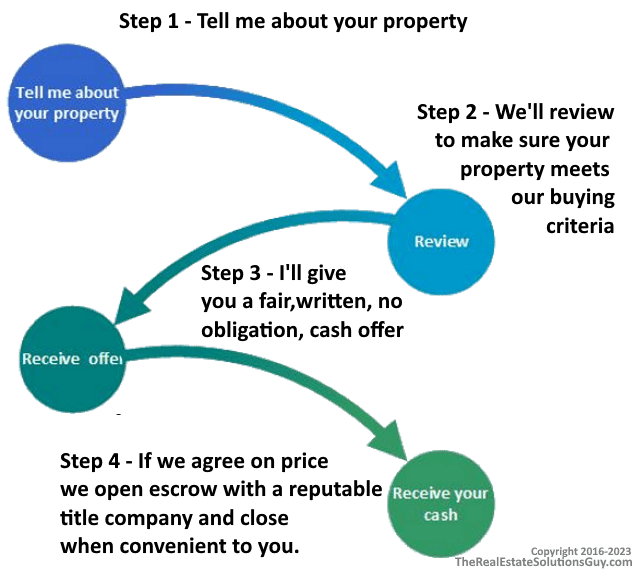 Get an as-is cash offer for your home
"*" indicates required fields
Take the first step today, to sell your home quickly and easily for cash
Here's how our company's buying houses for cash program works
Step 1 – Tell us about the home you want to sell
The first step to give us the property address and general information about your home.  You don't need to worry about the condition of your home, or it's location.  We'll take all of that into consideration in our offer.
Step 2 – I'll personally review your home's information
Some people advertise that they'll buy any home, any condition and any location.  Then they try to find another buyer for your contract, and if they can't they cancel their purchase.
I won't promise that we'll buy any house in any condition.  However,  we seriously look at every house and every location submitted to us.  I will ll personally look at what similar homes are selling for in your neighborhood to determine the highest price to pay for your home.  I'll look at at what similar houses have recently sold for in your neighborhood, reviewing such things as location, condition, and current market.
Step 3 – Receive a written, no obligation cash offer – in 24 hours
In order to make all of our transactions fully transparent, we'll provide you with a written offer to purchase your home for cash.  If we agree on a price, I'll deposit the money for purchase with a local title company who will be responsible for making sure you get paid.
Step 4 – Receive your money from the title company
Finally, the title company handles any additional paperwork required, and make sure you get your money for the sale of your home.  By using a local title company, you're guaranteed your money and no funny business.
Why selling your house to the Real Estate Solutions Guy makes so much sense

By using the above "Four simple steps to quickly selling your house" you receive the following benefits.
No real agent fees or commissions
I'm not a real estate agent looking to list your house.  I'm looking to buy houses in the greater Sacramento area.  You can sell your house quickly because I pay cash.  You avoid dealing with banks, difficult lenders, long drawn out escrows and having lots of people in and out of your property.
No Open Houses with Strangers Walking Through your House
Eliminate open houses and strangers walking through your house leaving viruses behind or judging your house keeping.  We're the only ones who will need to see inside your home, and we're not there to criticize you or your home.  You can eliminate all of the strangers in and out of your house with a single home walk through by myself.
No surprise or hidden closing fees – I pay normal closing costs
That's right – I pay title and escrow fees, city and county transfer taxes and any necessary repairs.  You don't need to be surprised by hidden escrow fees or repair costs.  And to make sure you aren't surprised, before the close of escrow, our title company will send you an estimate of what you'll receive at closing.
You don't need to do any repairs – I buy in as-is condition
You won't lay awake at night worrying about some buyer backing out because they got "cold feet" at the last minute because their inspector found something.  And, you won't be surprised by buyers who suddenly don't have all the money needed to close and at the last minute asking you to help with their closing costs.
No long drawn out negotiation process
Have you ever received an offer for something, accepted it, only to have the buyer come back and demand more?  They find this thing or that thing and slowly begin asking you for more and more discounts because of such and such.  The offer I write expects a certain amount of unanticipated repairs so you can avoid all of the back and forth.  What does that mean for you?  You can sell your house faster skipping long drawn out negotiations.
No last minute contract cancellations
Have you ever had the sale of a house fall through because at the last minute the buyer got cold feet?  The buyers' home inspector scares them with something that shouldn't be a surprise, but they walk away from the purchase.  It's a common occurrence when selling to the general public.  I do this for a living and have seen just about everything.  I'm not looking for the prettiest house in the neighborhood, as a matter of fact, ugly is better.
Skip the cleaning or hauling stuff away
You can sell your house fast and skip the cleaning!  You don't have to clean the house, get rid of junk or anything else to get ready.  I will buy your house in as-is condition and deal with whatever is left behind.  Anything of value, I'll donate to local charities and can even give you give the receipt for the items left behind if you let me know ahead of time.  If you have a specific charity you want items to go to, let me know ahead of time.
Fill out this form to get a fast, as-is, cash offer for your home
Have more questions?  Check out our FAQ.