Summary:
Staging creates an emotional advantage for the seller over non staged homes
Staging creates a "Better Homes and Garden" feeling to potential buyers
Staging accentuates the positive elements of your home
Get an as-is cash offer for your home
"*" indicates required fields
If you are looking to sell your home, you may be asking yourself "Should I stage my home?"  Some people feel that if you simply list your home for sale, buyers will come.  Nothing could be further from the truth.  Below are three reasons why professionally staging your home when selling could give you an advantage and the best price.
Why staging your home is important when selling
1.  Staging creates a negotiation advantage when selling
The negotiation for the sale of your home doesn't start when you get an offer from a potential buyer.  Negotiations start when your potential buyers see the home for the very first time. In our Information Age, this is likely to be on the Internet.  Your potential buyers will decide in an instant if they have any interest in looking at your home based solely on the pictures.  When you stage your home, you will get better photographs.  This will help create an emotional response in your potential buyers and create an advantage for you the seller.
When your potential buyers have an emotional response to your pictures, they will want to see your home.  When they actually visit the property, their emotional connection can be further deepened if the home matches their emotional expectations.  And as you are probably aware from your own experiences, when you become emotionally involved, you become less effective when negotiating.  Our emotions are very strong motivating factors for us.  If we are in love with something, whether it's a house, a car or our pet, we're likely to make compromises that other people would not.
2.  Staging creates that "Better Homes and Gardens" feeling
Have you ever looked at the beautiful homes in the magazines and thought to yourself, "Wow, I wish I could live there"?  Most of us probably have.  If you have ever walked through a new home subdivision's open homes, you probably noticed that every house was staged.  Why?  Because the big companies like KB Homes and Toll Brothers spend thousands of dollars every year doing market research.  They know that purchase decisions are made on emotional reasons, more than financial reasons.  As a result, every color, every feature and even the staging is carefully planned to create the desire for you to want to live there.
3.  Staging accentuates the positives of your home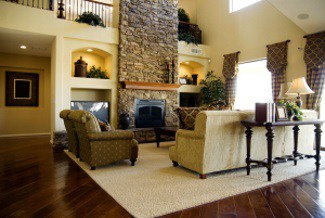 When potential buyers walk through your home, they are asking themselves, "Could I live here?".  They are trying to imagine themselves sipping ice tea on hot summer day on your deck.  They are trying to see themselves getting cozy by the fireplace, reading a nice book.  They're anticipating the joy of family gatherings around the kitchen table.  If your house is empty or cluttered with your own personal items, buyers may have a hard time seeing anything more than the things they don't like.  When you stage your home, you help potential buyers see themselves living their new home.  Staging brings out the best features of you home and helps your buyer to envision themselves living in the home.
Considerations when looking to stage your home
Ultimately, a professionally staged home can help your home sell faster and for a higher price.  If you are considering staging your home, shop around and get several quotes.  Prices can vary, but typically are around $1.25 per square foot of living area. This usually includes staging kitchen, living and family rooms, dining room, master bedroom and two bathrooms.  Additional rooms or locations are extra.
Questions to ask a prospective staging company
Ask for the addresses of any properties that the staging company currently may have staged.  Then go and look at their staging.  Is it the furniture worn and old?  Does it fit the style of the home?  Does it look inviting?  Is it tasteful?  Lastly, be sure to ask if they include professional photographer pictures as well in the package or if they can recommend a professional photographer.  A professional photographer's pictures are much better than pictures taken using your phone and will draw potential buyers to your home.
A word of caution
Don't attempt to hide defects with staging.  Buyers will resent the appearance of deception.  If the property doesn't live up to the buyer's anticipation, it will create a negative emotional response rather than the positive one you want.  I've actually heard of agents telling sellers that the staging was deceptive and that the seller was "wasting their buyers' time" with false advertising.  Done properly, staging should reflect the condition and value of the property.
For more information, check out our complete guide to How to Stage a House to Sell Quickly, on a Budget.