Get an as-is cash offer for your home
"*" indicates required fields
When real estate agents, or their buyers get desperate to sell houses, they can come up with some pretty funny ways to describe  problems.  Or to attract buyers.  One agent, Michael D'Elena,  tapped in on the gluten free craze and started advertising his listings as Gluten Free.
Here's our top 31 phrases Realtors® use to attract buyers to houses that are difficult to sell.
1.  Must see inside – Please don't judge the property by it's lack of curb appeal.  It's a dump outside, but the inside promises to be different.
2.  Local views – Hide your children.  The next door neighbor is a sixty year old nudist who exhibits their freedom in their backyard.
3.  Free toilet paper with every purchase –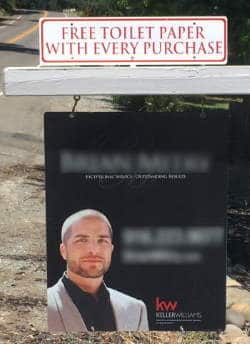 Our personal favorite.  Brian Mitry who advertises "Exceptional Service. Outstanding Results" had a home he was trying to sell on a busy street during the COVID-19 outbreak.  He finally added "Free Toilet Paper with Every Purchase".  At the time, toilet paper was harder to buy than a house on a busy street.
4. Peek a boo view of the mountains– Get your ladder out to crawl onto your roof.  You'll have to really stretch to see beyond your nudist neighbor's back yard. (Ugh).  Or if you are in Los Angeles, you'll have to wait for the smog to clear for your peek a boo view of the mountains.
5. Waterfront property – Don't plan on swimming here.  It's just a swampy duck pond. Oh, and don't forget to bring your mosquito repellent.
6. Lots of character – Is this the Winchester Mystery House?   No, but they both must have had the same designer.
7. Up and coming neighborhood – The weeds are up in the neighbors' yards and the landscaper isn't coming.  Be careful here.  There's still a lot of blight in the neighborhood.
8. Tenant occupied – Worse than trying to get past the boss' receptionist to make an appointment.  "No, the boss isn't in" and neither is the tenant.  Going to be hard to ever see the inside of the house.  When you finally make an appointment, the Realtor® lockbox is strangely missing and the tenant isn't home. Might be time to write a cash offer, sight unseen on this one.
9. Close to freeway – Bring your earplugs to deaden the traffic noise.  You may also want a respirator for all of the car exhaust.  The good news is you'll have plenty of white noise in every room.
10. Not haunted – Really?  That has to be good right?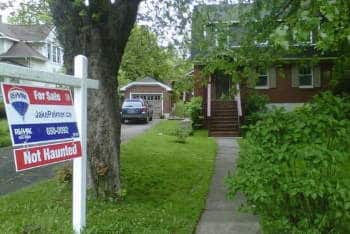 11. Pride of ownership – They're really proud of the DIY job they did.  Please, don't tell the owners it looks hideous.
12. Dream house – While the agent is dreaming of what they'll do with the commission if they can ever sell this house, the seller is dreaming of finally moving on.
13. Cozy/charming – Built before tiny houses were cool, and when Desi and Lucy slept in separate twin beds.  Everything inside is small and cramped. Don't forget to bring your old doll house furniture so you'll have a place to sit.
14. Hidden gem/diamond in the rough – This house will stay hidden until someone removes all of broken windows, dry rot and deferred maintenance.
15. Lovingly maintained – The owners love how it looks just like it did 50 years ago when the owner moved in.  This house has never been updated.
16. Motivated seller – Overpriced and hasn't had any full priced offers in three months.  They're desperate to find someone willing to pay more than the house is worth.
17. Great Investment opportunity – This condo conversion project is way over budget.  Maybe it will be a great investment in the next recession.
18. Nearby park – Plan on parking two blocks away on weekends, because all of the soccer moms will be blocking your driveway.
19. Lots of sunlight – You won't need an oven, but you're air conditioning bill will be more than your mortgage.
20. Hot property – Located next to nuclear waste dump.
21. Seasonal creek – Backs up to a drainage ditch which overflows when it rains.  Plan on purchasing flood insurance.
22. Needs TLC – Not quite a total tear down.  Plan on spending your life savings fixing it back up.
23. Bring your paint brush and hammer – Or maybe your jackhammer.  This house needs more than a paint job!
24. Bring all offers – Please, my client is going to cancel my listing contract if I don't sell this house!
25.  Back on the market – "Do you have any previous inspection reports?", you ask the Realtor®.  "No", the listing agent replies.  They've been in and out of contract four times, but there's no previous inspection reports.  This house has plenty of problems they don't want you to know about.
26.  Selling as is – Seller doesn't want to do any repairs.  And probably hasn't done any since they've owned it.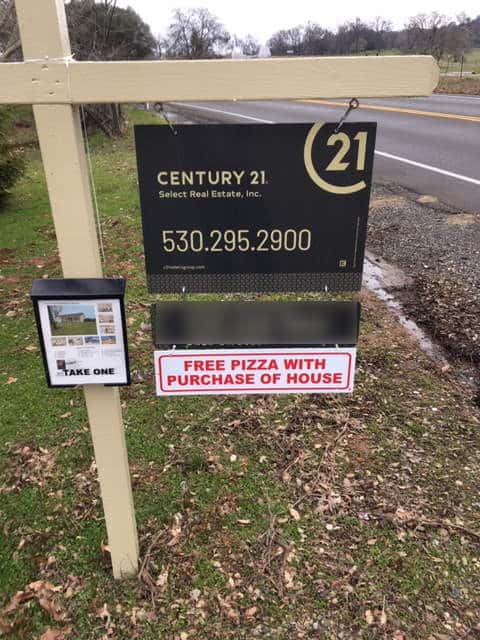 27. Fixer – Let's see if we can start a bidding war with people who are fans of the Flip this House television show.
28. Choi pond – Better bring your own fish.  It's currently a mosquito farm.
29. First time on the market – This house looks just like it did when it was built in the 1980's.  It still has the pink and blue bathrooms.
30.  Free pizza with purchase – Hopefully you have lot's of beer so you can drown your sorrows and never have to think about why you paid so much for a pizza.
31.  Won't last long – This house has already been on the market for six months waiting for someone to buy the house.  They're still hoping or a bidding war.

32.  Marry the house, date the rate, divorce your landlord – Buy this house, even if you can't afford it.  Some day you'll be able to refinance out of this expensive interest rate.
Well, there you have it.  Our thirty-two favorite real estate terms that really mean something else.  If you see any of these terms, be careful or you may have to use the same tactics when it comes time for you to sell.