Leave the cleaning and repairs to us. Get a cash offer for your home.
Selling your home is always a challenge.  But selling a home in another state or town, can have it's own difficulties and challenges.  In this article we look at solutions to many of the common challenges and misconceptions of selling a home out of state.
The first challenge you may face is finding a quality real estate agent.  If you've recently moved from the area, then you probably have contacts or know of agents you can trust.
But what if you have inherited your family home, or you have been tasked with selling your parents' home that is out of state?  Finding an agent who can help you sell the home is more risky, but not impossible.
How do you choose a Realtor® to sell your out of state house?
Start with social media –  There's no better referral than one from previous clients.  I recently saw a post on social media from someone from out of town, looking for local Realtor® recommendations.  Several people provided names of agents they had used and that they were happy with.  Facebook has community based "market places" that are specific to the local city.  Just google "Facebook your city marketplace".  For example, "facebook ft. lauderdale marketplace".  You can then post questions looking for recommendations in the particular town you are trying to sell in.
Use the Internet – Start by typing "probate + real estate agent + city" in your browser.  Even if your home is not in probate, this will give you a list of agents who help people sell inherited houses.  Then call and talk to each agent and interview them. Make sure you go over these 10 questions to ask every real estate agent before choosing one.
Ask friends and family – Do you have friends or family who live in the city where the home you're trying to sell is located?  Be sure to ask them for the names of any Realtors® they can recommend.  Even if they don't own a home, they probably have friends who do.  These friends and family can recommend a local real estate agent.
Ask a local agent you know and trust –  Experienced agents can have a very large network of agents that they have worked with in the past, and know their level of competence and experience.Years ago, when my family was moving out of town and we were looking for an out of town agent.  We asked the agent who was selling our home for recommendations.  Our agent referred us to an agent that he had worked with before. Because of the relationship, they knew the quality of service we would receive.  The new agent ended up being one of the better agents we had experienced at the time.
Have a list of interview questions to ask your agent – Make sure you're prepared with the right questions to ask a prospective agent.  You don't want to just go in without a game plan.  You'll want to know what method the agent like to communicate with you and how often.  Are they full or part time and how are they different from other real estate agents?

A word of caution about agent referrals
A common practice among real estate agents is to collect a referral fee.  Your local agent can receive $500 and up for simply referring you to another agent! While not illegal, a referral from a local agent, may not be your best choice.
Most agents dislike referring clients to another agent unless they have worked with them before.  A survey by Inman, found that 41% of agents "thought it was unacceptable to refer a client to another agent without knowing the quality of service the client would receive".  However, one third of the agents surveyed, believed that it was common practice.  If you get a referral from your local agent for another agent, be sure to ask them "How do you know this agent and have you done transactions with them before?".
Other challenges when selling a home out of state
Repairs
Repairs can the most challenging.  Romana King, a licensed Realtor with Zolo in Vancouver, CA says "When you don't live in the same city as the house being sold, then repairing and renovating the property can be difficult. Since you're not present to verify that the contractors are doing the job correctly, these repairs may not be up to standard."  If the home needs lots of repairs, King says, "you can also sell  directly to a cash buyer".  King continues, "just keep in mind that this option really only makes financial sense if your property wouldn't be considered desirable.  Say it needs lots of repairs, and you need to minimize the costs of selling in order to maximize your profit."  I would add, you might also consider selling to a cash buyer if your time is more valuable than money.
Curb appeal
Everyone knows that curb appeal is important.  But it's not just the front of the house that matters.  This is where an experienced, full service Realtor® is worth their money.  Melissa Kelsch, with Red Rock Real Estate in St. George, UT, says "Good Realtors have a network of providers to get the house ready to sell." She continues saying that a "good agent will oversee the cleaning and staging if you are not able to go to the property and do yourself."  They can even coordinate an estate sale if needed.
My personal experience has been that good Realtors® have several handymen, contractors, landscapers and painters on speed dial in their phones.  These agents can help you identify what repairs or touch ups need to be done in order to help you get the best dollar for your home. They can also obtain quotes for their recommendations and schedule any needed repairs.  Additionally, you may need your agent to find a landscaper to keep the lawns mowed and bushes trimmed.
Vandals, Vagrants and Vice
Vacant homes can attract squatters and vandalism.
I've have a friend who drove by a house he was purchasing that afternoon.  In the morning when he drove by, the house was vacant.  However, when he came back that evening squatters had moved in!  The squatters even had "rental paperwork" showing that had just rented the home.  The squatters wouldn't leave unless my friend paid them for their "security deposit".
Additionally, vacant homes are often the target of thieves stealing the copper from your home.  I purchased a foreclosure once where thieves had cut out all of the copper electrical wire out of the attic.  Walking through the house you would have never suspected the electrical wire was missing.  At least not until you asked the utility company to turn the power back on.
Consider an inexpensive security system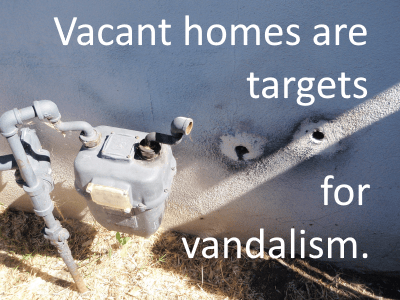 These kinds of problems can be avoided with a simple security system.  There are several month to month security systems you can lease without a long term contract.  A lot of people like Simplisafe.com, which provides a month to month option.   The equipment will cost you around $500, but consider it cheap insurance.  Your real estate agent or handyman can install the system in less than an hour.  Additionally, the system can be monitored 24/7 with police dispatch for around $25 a month.
Get the correct type of home owners insurance
Most homeowners insurance plans do not cover vacant homes for more than 30 days.  A few carriers will insure vacant homes for up to 60 days.  A vacant homes means no one is living in it full time, along with the evidence that someone is living there full time.  That means a refrigerator, furniture or beds.   If your home is vacant, and your house has a fire, your policy may only cover 60% or less of your loss.
It's very easy for a home to take longer than 30 to 90 days to sell.  So make sure you contact your insurance agent to make sure you have the right coverage.  If you're considering renting the property out for a while, you'll want to make sure you change your policy to landlord insurance as well.
Keep the utilities on
King says, "A big mistake people make is turning off the utilities in a vacant home.  When the lights are off, and the grass is overgrown, it is a sign that the home is empty."  Ask your agent if they would buy and install a small light and plugin timer.  These timers can turn lights off and on randomly during the day.  Additionally, ask your real estate agent to set the thermostat in the home.  It doesn't need to be 68 degrees, but you don't want pipes freezing in the winter in colder climates.  And you don't want mold growing in the moister climates.
Keep the property taxes paid
Lastly, don't forget to keep paying the property taxes.  If the property taxes haven't been paid, the home may be sold or have a lien placed on it for the amount in arrears.  These tax liens or tax deeds can have high interest rates.  The interest of tax liens can be 10% or more and can quickly add to your expenses.  If you have inherited the home, check with the local county office.  They can help you verify if the property taxes are current.
Misconceptions about selling a home out of state
A common misconception about selling a home out of state is that you may leave a lot of money on the table.  However, King suggests "work with a professional Realtor that has experience with out-of-town buyers and sellers.  They will guide you through each step of the process and help you get top dollar in the sale of the property."
Another common misconception is that you need to be travel to the state to sign paperwork.  Instead of asking you to travel, title companies and attorneys hire mobile notaries where you live for any documents you need to sign.  Mobile notaries can come to your home or office to expedite the sale of your out of town home.  I've personally bought homes from sellers who were on vacation out of the state.  The title company simply arranged for a mobile notary to meet with the seller where they were vacationing.
Conclusion
Selling an out of state home is similar to selling your home locally.  The exception, is you need someone else to manage things on the ground.  If the home needs lots of repairs, then a cash buyer can be simple solution.  However, if the home is in reasonable condition, having a quality, full service Realtor® who can be your boots on the ground can be invaluable.