Get an as-is cash offer for your home
"*" indicates required fields
Summary:
Avoid using friends for property managers unless they are well versed in local laws
Use social media to find other landlords who can give referrals
Hiring a property manager is like hiring a business partner
You need to manage your property managers
Real estate prices have skyrocketed in many cities.  As a result, many real estate investors are looking out of state to find affordable rental properties.  However, investing out of state is not without it's risks.    Jack Miller, was a real estate investor, mentor and landlord for many years.  He was fond of saying, "I've invested in real estate in all 50 states, and lost money in 49 of them".  His point was, investing out of state adds additional risks to real estate investing.  This is especially true when it comes to hiring property managers for your out of state rental property.
So how do you go about finding good property managers?   In this article, we look at how to find get referrals from the locals.  We'll also look at extraneous fees you should watch out for.  Then, we'll look at the signs  to look for in case you've hired a bad property manager.  Lastly, we'll look at how to manage your property manager.
Related reading:  Should I sell or keep inherited property as a rental?
Should you use your friends instead of hiring a property manager?
It may be tempting to use your friends as property managers, but that is extremely risky.  Laura Agadoni, is a landlord, contributor to millionacres.com and a published author.  She suggests, "It's ideal if you have friends in the area where your rental property is located."  Having a friend or family member who can periodically drive by a property to see if it's being maintained, can be invaluable.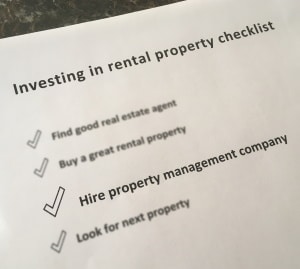 However she says, "It's a bad idea to use a friend who is unfamiliar with real estate rental laws to be your property manager" .   There are too many landlord-tenant laws for friends or family to know.  Agadoni continues, "If your property manager doesn't know and follow the law, you could be sued".  Additionally she says, "Many states require anyone managing a property for someone else, to be a licensed real estate agent".
But what if your friend is also a landlord in the same town as your rental, and familiar with local laws? They could be a good alternative.  I know of several landlords who use trusted friends who are also local landlords, to manage their out of state properties.  However, you still need to be aware of the local laws governing property management.  For example, the City of Sacramento requires that rental properties be managed by someone within 20 miles of the property.  Additionally the City requires rentals to be inspected by the City's rental inspectors every two years.
How to get referrals to good out of state property managers
We all know the best way to find any resource is word of mouth, so start by asking the locals.  Paula Ross, is with Retreatia.com, a vacation rental management company in Steamboat Springs, Colorado.  Ross advocates asking the locals. "Ask Realtors®, the Chamber of Commerce and other local property owners".  But she says "the best way in a small town, is to ask the local bartender".
Online referral sources
You can also find online groups for landlords like biggerpockets.com where you can ask for referrals.  Or you can connect via social media to groups like Long Distance Real Estate Investors to find other landlords.  Almost every town and city has a local Facebook group where you can post questions looking for local help or referrals.
Interviewing property managers
Once you have a list of potential property managers, it's time to make a list of the qualities you are looking for in a property management company.  It's not just about having someone take care of your rental.  You're also hiring a "business partner", someone you're going to be working and communicating with for long time.  Agadoni suggests that your list should start with the following:
Find quality tenants
Collect rent
Regularly inspect the property
Handle maintenance and repair duties
Be the contact person for your tenants
Handling evictions
Once you have a list of referrals it's time to start making phone calls.  "Everyone has a web site, but you can't get a feel for the way the company operates unless you talk to people in the office", explains Ross.  She continues, "Does someone pick up your call right away?  Did you reach the right person?  If you haven't reached the right person did you get transferred or were you given a good contact number?  If you didn't reach someone, how quickly was your call returned?".  You're looking for people you can work with and who can clearly walk you through the services they provide.
Related story:  Tenant horror stories, it's about more than just toilets
Questions to ask property managers before you hire them
When interviewing property management companies, have a list of specific questions for them.   Be sure to ask open ended questions, rather than yes/no questions.  For example, don't ask "Do you screen your tenants?".  Instead say, "Tell me about how you screen your tenants". Daniel Sperling-Horowitz a landlord and CEO of offermarket.us suggests you ask several different management companies and address each the following topics.
How is their organization structured?
Who are the members of their team?  What are their roles?  What repairs or maintenance are handled in-house versus contracted out?
How do they charge for their services?
Some management companies charge a percentage of monthly rents.  Others charged a fixed fee.  You want to have a complete understanding of what services are included and what services are extra.
Ask to review their leasing materials
Take some time to read through their lease agreement and property disclosures.  Pay particular attention to their move-in and move-out protocols.  Their move-in and move-out process should have very detailed checklists.  Additionally, ask how about their pre-move out process.  Do they meet with tenants prior to their moving out to identify potential charges to tenants?
Some cities require that tenants have a right to be notified in writing of any repairs the tenant will be charged for prior to move out.  The tenants then must have the opportunity to correct these problems before they move out.  Additionally, some cities do not allow the landlord to deduct for repairs unless the tenant was also given a move-in inspection report when they moved in.
The more detailed his the list, the less chance the property manager is going to miss damage done by a tenant.  It's amazing how easy it is to overlook something in a walk through.  Especially, when you're quickly walking through the property and you're distracted listening to the tenant.
Review the property manager's screening process
The secret to finding good tenants, is good screening.  Ask what the minimum credit score they recommend for a property like yours?  Not every neighborhood warrants the same credit score.  What things do they look for in credit reports that automatically disqualify prospective tenants?  Prior evictions, bankruptcies, limited rental history?  If they accept any of these negative items, under what situations do they accept them?  What other techniques do they employ to evaluate prospective tenants.
I've never seen a management company do this, but my personal favorite is to glance in a prospective tenant's car.  If they're car is a mess, they'll probably treat the rental property similarly.
What is their track record on evictions?
You want to know how many unlawful detainer filings they have had to make.  It can also be telling to find out how many evictions were settled out of court.  Some companies may only count evictions that went the full distance.  However, many eviction cases get settled just before meeting with the judge.  Keep in mind, that cases that are settled out of court with your attorney, still incur attorney fees.
Have you ever been sued?
Property managers are regularly sued by tenants.  If a tenant sues your property manager, they'll probably include you in the lawsuit.  You want to find a property manager who knows the laws and will do their best to not end up in court.
What is their track record with code violations?
As previously mentioned, many cities require regular inspections by the city's rental housing department.  Properties that have deferred maintenance or zero maintenance can be cited, and possibly even fined.  You should also ask if the property manager is able to self certify compliance with the city, instead of a government official?  Lastly, you'll want to know what the fees are for each of these inspections.
Related reading:  Twelve most common rental housing code enforcement violations
Ask for references
You'll also want to speak to at least three different past and present clients and ask them about their experience.
Maintenance request process
One of the common complaints by tenants is the lack of attention to maintenance requests.  What is the property manager's process for handling maintenance requests?  How are these requests prioritized and tracked?  What is the average response time?  What is the process for handling after hours emergency repair calls?  Do they have an after hours emergency number?  Do they obtain multiple quotes for repairs or use an in house handyman for their repairs?
Tenant satisfaction
What is their process for understanding tenant satisfaction?  How do they measure their tenants satisfaction?  How long do their tenants typically remain with them?  What kind of gifts or freebies do they offer tenants who have stayed with them?
What fees should you look out for?
Every management company is different.  Some are full service, whereas others offer more of a hybrid or al la carte approach.  If you're looking for a full service company, look for a company that includes all of the services you need in their base pricing.  Otherwise, extra fees will eat up all of your profits.  Ross you want to watch out for are "credit card fees, start-up or monthly management fees, and maintenance fees".
Additionally, ask about advertising and cancellation fees.  You don't want to be charged a fee if you decide you aren't 100% happy and want to switch management companies.
Additional reading:  7 ways even experience landlords can lose money
What are the warning signs of a bad property manager?
Substantially below market rents
So how do you know if you've hired the wrong company?  Horowitz says "Rent that is objectively below market" rate is a sign of a poor property manager.  It's much easier to rent up a property and eliminate vacancy by charging below market rents.  There are paid tools such as rentometer.com, and  free tools like craigslist.org you can use to identify what the range of local market rents are.
You should have a conversation with prospective property managers about how aggressive you want to price rents.  Some owners want to price rents as high as possible.  They are willing to accept the risk of vacancy and turnovers in exchange for higher rents.  Other landlords prefer to price their properties slightly below market rents.  This not only applies to your initial rent up, but also to rent increases for longer term tenants.  How aggressive do you want your property manager to raise rents and how often.  Your property manager should be able to tell you how much you can safely charge without excessive tenant turnover.
Deferred maintenance
Deferred maintenance costs the landlord money for expensive repairs.  Worse, it also leads to tenant turnover and an inability to charge premium rents.  However, it can be difficult to know if your management company is deferring needed maintenance.  Especially when you live out of state.  Good property managers should be performing  regular inspections.  At a minimum these should happen at least once a year.
But how would you know?  This is where having a trusted local friend or fellow investor can be helpful.  Ask them to drive by and send you pictures of the front of the property periodically.
Manage your property manager for continued success
Horowitz also suggests you manage your property manager. Horowitz says you need to come to an agreement up front regarding tenant screening criteria.  What is the minimum credit score they'll accept?  Can tenants have any dings on their background or credit reports?  If so, what's is and isn't acceptable?   Will you require tenants to have renters insurance?  If you want quarterly interior inspections, be sure to specify this prior to hiring them and get it in writing.
Once you have established your expectations, Horowitz says you need to hold the management company accountable.  "Don't be afraid to replace an under performing property management company" says Horowitz.
More about internal inspections
A note about the importance of internal inspections.  I have a friend who's a very experienced land.  He rented an upscale property to a local police officer .  Because the tenant was a cop, the landlord was a little lax about inspections.  While he periodically drove by the property, he never performed an annual internal walk through.  From the outside, everything looked okay.  However, when the tenant moved out, the landlord found the backyard was filled with over 20 yards of trash.  The landlord knew the importance of inspections, but had simply trusted the tenant's reputation.
Conclusion
There you have it – how to hire an out of state property manager.  Of course, these tips also apply to hiring local property managers.  Friends can be a great asset, but you should probably seek professional management companies for your properties.  When looking for management companies, be sure to check out references online.  Additionally, you'll also want to connect with social media groups for landlords.  And, be prepared with a list of questions and topics you want to discuss with prospective property managers.  Lastly, keep in touch with whoever you hire and hold them accountable.