Get an as-is cash offer for your home
"*" indicates required fields
Getting your home ready for sale can be a lot of work.  But keeping it looking like a model home while you market it can seem impossible.  If you have children, it can be even more challenging.  We look at multiple tips to help make your home showroom ready, and keep it that way.
Adopt a minimalist mindset
Have you ever seen a picture or mural painting that looked three dimensional or looked to be real?  I've seen balconies painted with flowers and furniture on the sides of buildings that looked three dimensional.  The style of artwork is referred to as trompe l'oeil.  It's a French word that means "to deceive the eye".  It's used to describe artwork that fools the viewer into believing something is real.
Minimizing, de-cluttering and staging all contribute to trompe l'oeil, or deceiving the eye.  You're creating a picture of a home that isn't lived in, that isn't real.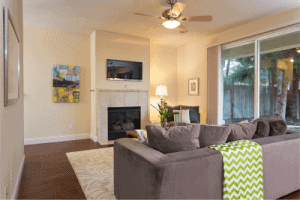 To accomplish this you need to minimize everything and downsize your stuff.  The less stuff you have in your house, the larger it looks.  Rooms with less furniture, feel more spacious.  Kitchens with cabinets that are less than half full, appear to have lots of storage.   Closets with minimal clothes, look larger.   You want to be a minimalist.   You want to be so aggressive that you can't find your coffee pot or blender any more!  It's better to do without something than to have your house sit on the market for weeks.
Even if you keep a relatively neat home and are a minimalist already, you probably still have too much stuff for showing your home.
Rent a Storage Unit or PODS
But where do you put everything?  Renting a storage unit is a great option for temporarily storing your belongings.  But PODS, or Portable On Demand Storage have also become a popular storage option.  With PODS, a storage box is dropped off at your home, saving you from ferrying boxes to the storage unit.  Once your POD is packed up, the POD is picked up and stored in a secure location or to your new home.  The great thing about PODS, is they typically cost one quarter of hiring a moving company.
Minimizing checklist
Kitchen
Start by emptying the kitchen cabinets and pantry of all but the bare necessities.  Remove extra plates, dishes, food storage containers, and casserole dishes.  Put appliances like toasters, blenders and coffee makers all in storage.  If you need coffee in the morning, you can buy it at Starbucks on your way to work.
Put your phone and laptop chargers out of site.  Consider adding a USB electrical receptacle in your kitchen (or wherever you plug in your phone to charge) and eliminate house phone chargers altogether.
While you're at it, be sure to clear your refrigerator of magnets, pictures and everything else.
Eliminate kitchen smells
Cooking can create smells that last for hours.  You may not notice the smells, but potential buyers will, and those smells can turn buyers away.  While you're listing your house for sale, avoid cooking with strong spices like garlic, curries or anything with lots of grease.
Consider eating out or ordering take out food.  You'll eliminate lot's of dirty dishes and cooking smells.  You'll also save yourself valuable time that you may need to keep other areas of your house clean. If you have to cook something, cook cookies.
When cleaning your kitchen, don't forget to clean your microwave and hood vents.  These trap grease that cause lingering odors.  Also, pour some vinegar down the garbage disposal to kill any bacteria that may be causing odors in your garbage disposal.
Lastly, clean off the kitchen counters of everything, except maybe a vase of flowers.
Secret laundry baskets
Keep the wash machine and dryer empty.  Then when you need to leave the house in a hurry, throw your dirty bath and kitchen towels in the wash machine.  Need a place to keep extra linens or towels while you make your linen closet look more spacious?  Put them in your dryer instead.  Keep them folded so that if so that if you need to restock a linen closet, you can quickly grab them and put them in their proper place.  When you need your dryer for other laundry, just take the linens out and set them on the dryer neatly.
Bathrooms
Clean out your bathroom cabinet drawers and the space under the sink of everything.  If your trash can is large or takes up more than a third of the space under your sink, put it in storage and get a smaller trash can to put under your sink.  Keep a small plastic bin for your soaps, shampoos and basic toiletries.  This bin can sit on your bathroom counter while you're at home, but when you leave, it's quick and easy put under the bathroom sink.
Bedrooms
Remove and reduce the clothes in all of the closets.  Use the rule of 1/3.  Your closets and cabinets should never be more than 1/3 full. If you ever look at a staged home, you'll rarely see more than just two or three items hanging in the closets.  Professional stagers do this to make your closets look spacious. Yes, it may be hard to imagine living on so few clothes in the house, but remember, you're deceiving the eye.
Children's Bedrooms
Depending on the age of your children, they may not understand you're packing up their toys to move.  Buy a tote that will fit in their closet.  Have them put their favorite toys in the tote so they still have something to play with. Next, get cardboard boxes for their other toys and mark the boxes as "treasure chest".  Tell them that pirates are hiding their toys in your new home and that after you move, you can go on a treasure hunt looking for their lost treasure.
Meanwhile, when your children are done playing with their remaining toys, make sure they go back in the tote in the closet.
Linen Closets
The rule of 1/3 applies here too.  Empty your linen closets of everything but a few things.  You probably don't need ten towels in the linen closet.  If you do, store them neatly in your dyer.
Furniture
In order to make your home look more spacious, put as much furniture as is practical into storage.  Reduce the number of chairs around the dinner table to 4.  Remove extraneous furniture like end tables, floor lamps and extra chairs.  Take away end tables and televisions from guest bedrooms.  Lastly, if your television cords are hanging down the wall, unplug your television and wrap up the cords and cables with Velcro straps.  If your furniture is dated or worn, consider hiring a professional staging company to bring in nice looking furniture.  Make people see your house, not your furniture.
While your looking at furniture, empty nick knack shelves and the fireplace mantel of everything but two or three nick knacks.  Use the rule of 3 – three items on display in any room.
Pets
We love our pets.  I'm a dog person and I love dogs, but when I go to a house I don't want to determine if your dog is friendly or worry about accidentally letting your cat out of the house.  Bribe your friends or in-laws to keep your pet for the first week or so while your property is listed.  If you've minimized, de-cluttered, maintained and priced your house right, you shouldn't need to wait longer than a week to be in contract.  Then, after you're in contract, you can bring your pet back home except for when your buyers schedule their inspections.
The week before listing your home
Generally speaking it's best to list your house late Thursday or early Friday morning.  This puts your home fresh on the market for the weekend and for potential open houses.  Before you list your house, there are some last minute things you may want to consider.
Let your light shine
Remove window screens and put them in your garage – it will let more light into your home. Do you have light switches in your bedrooms or bathrooms that automatically turn off when someone leaves the room? Most of these switches can be easily changed to automatically turn on when someone enters the room or to stay on when you push the button.   Just google for the instructions for your brand of light switch to change the settings.
Use professional cleaners
You've done a lot of cleaning already, but chances are you're exhausted and your home still needs a final clean.  For a few hundred dollars, you can hire professional cleaners to deep clean your home.  This includes windows, appliances, floors, bathrooms and every nook and cranny of your home.  Be sure to explain that you're looking for someone who is very detailed and who will clean window tracks, ceiling fans, and dust the tops of baseboards, door trim and shelves.  Your buyer's may not be doing a white glove inspection, but they will notice dirt and dust in places you may have missed.
Your first weekend on the market
Your first few days on the market will generate the most buyer traffic.  Rather than fuss with picking up all of the kids toys and running out the door for every showing, consider staying at a hotel for the first weekend.  Plan activities out with the kids, maybe a trip to the zoo or go see a movie.  Make it a fun get away weekend.  Maybe, get a baby sitter and get away without the kids.
Your daily routine after your first weekend
If you're still not in contract after the first weekend, life can be more challenging.  Realtors®can stop by without warning, even if you have specified you need an hour notice.  Sadly, many agents don't bother reading the showing instructions in the Multiple Listing Service.
To keep yourself from having to rush out the door and scramble to clean up, create a early morning routine that gets everything done before 9 a.m..  Start by turning on all of the lights and open all of the blinds after everyone is up.  Each morning before going to work, vacuum the carpets.  Don't forget to clean your toilets, take out the trash and make the beds before leaving.  Each evening thoroughly clean the kitchen before going to bed.
Lastly, have a laundry basket set aside.  When you have to leave the house, walk through with the laundry basket and pick up anything that you can't put away.  Then put the basket in your car trunk when you leave.
Open houses
Having strangers walk through your home can be uncomfortable for many.  If you have items such as jewelry, cash or or other valuables, put them in a safe place.   If you a have a free standing safe, you might consider storing the safe at a friends home.  When having an open house, let your agent know where your valuables are so your agent can keep a close eye on them.
Cash buyers offer an alternative
If you want to sell your home and avoid strangers walking through your home, a discreet cash buyer like The Real Estate Solutions Guy can be a great option. Cash buyers provide an alternative way of selling your home, saving you from paying for storage, cleaning and trying to make your home show room ready.