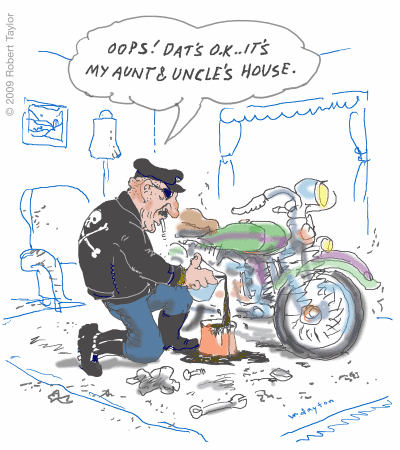 Pat's sister's had a son who needed a place to live. It was supposed to be for a short time while he got back on his feet.   He had just lost his job and promised it would just be for a couple of months; that he had several job leads already.  Pat agreed and gave his nephew 4 months to find a job and to start paying rent.  It wouldn't take long before he would have a freeloading relative living in his rental property.
Four months into this temporary situation, Pat tried to talk to his nephew about his progress.  That's when he knew he had a problem – he had a deadbeat tenant.  His nephew didn't want to talk about it and just stormed out of the house cursing at him.  Pat, changed the locks, but when he came back a couple days later, his nephew had broken back in and was still living in the house.
Get an as-is cash offer for your home
"*" indicates required fields
The deadbeat tenant
"I found dope in the house, his anger is an issue and he makes holes in the wall.  He cusses me out and disrespects me and destroys the house.  He refuses to leave.  Now I find that he has his pregnant girlfriend living with him and I don't know what to do.  The cops say we can't kick them out without going to court."
Three years later the nephew still lives in the house and hasn't paid a penny for rent. Pat has tried several times to talk to his nephew about moving out but every time they talk, the nephew blows up and punches holes in the walls.  He  can't even talk to his sister without a heated argument over her son.  He even skipped Thanksgiving with the family because of all of the heated conversations.  Pat called the police, but the police say it has to go to court to get the nephew out of the house.
Pat had reached the end of his rope
The problem was was destroying Pat's relationships with his family.  Finally, Pat's wife was fed up and gave him an ultimatum, "it was either her or his nephew".  Fed up with the situation, his family relationships strained, Pat desperately needed help.
Pat is not the only homeowner dealing with a a relative's failure to launch.
75 year old mother evicts 40 and 42 year old freeloading sons
In a recent report by CNN, an Italian mother went to court evict her what she said were, her two "parasite" sons.  The 75 year old woman, who preferred to remain anonymous, lives only on her pension.  She pays all of utilities and for the maintenance of the home she owns.  Meanwhile, her two sons, 40 and 42, both work, but contribute nothing to help financially.
The two sons actually hired a lawyer to protest their mother's law suit .  They claimed that she was required by Italian law to provide for her children as long as needed. Somehow, these men who couldn't afford to leave home, could afford to hire an attorney.
How do you remove a freeloading family member from your house?
I help people like Pat.  Some have children or grand children living in a rental property, but they haven't paid rent in years.  Like the 75 year old Italian woman, the owners often end up paying all of the utility bills. Unfortunately, kicking the grand kids out of the house is a touchy situation.  But what's the owner to do?  They can't keep paying all of the bills for their relatives.
Owners avoid the confrontation by selling the home
Often, their only solution is to sell their home. However, their "tenants" haven't taken care of the property.  Now, the home is in need of massive repairs, so selling through a real estate agent would be problematic.  These sellers call me, because I buy houses from people with free loading relatives.
I know I must be crazy or sick, but I buy houses from people who have deadbeat tenants using my four step buying system.
Four step buying system
1.  I will review the comparable sales
2.  I will write a net cash offer for the house in it's present condition, with tenants in place
3.  You can either accept or reject the offer, no obligation.
4.  We'll open escrow with a local title company and you'll receive money wired directly to your bank account

We want to buy your house with your deadbeat tenants
Do you have a problem tenant like Pat?  If so, we'll maintain strict confidentiality and promise not to tell the neighbors or your tenant what you sold the house for, or why.  We'll buy your rental, with your deadbeat tenants in place.
Just imagine, ten days from now (or less), you could be looking at your bank account seeing a big deposit of money from a house whose tenant used to cause you so much grief.  You'll be able to talk with family again  without tiptoeing around the subject anymore.  You can stop paying property taxes and insurance for the house and being on the hook for unpaid utilities and destructive tenants.
Get cash now for your deadbeat tenant property instead of trying to get money out of your tenant.  Skip eviction court, go directly to the bank. 
You won't even have to tell the tenant you sold the place!
If you're in a situation similar to Pat's, then call me today.
OR
complete the short form below.
Don't put it off any longer.
Fill out this form to get a fast, as-is, cash offer for your home