The Internet has changed everything from travel reservations to shopping for groceries.  Now, it's trying to change how we buy houses.  Redfin.com, the Seattle based online real estate company recently piloted a new online bidding program for home buyers.  The program allows buyers to bypass using real estate agents to represent them and present offers directly to sellers.
A "Buy It" Button for Real Estate
Redfin launched the new system Redfin Direct in late March.  Homes currently listed for sale by Redfin in the Boston area display a "Start an Offer" button next to each of their homes.  The button, nicknamed the "Buy It button for real estate", walks buyers through a process far more complex than your typical website purchase.  Buyers answer a 55 question survey guiding the buyer through things like financing, inspections and offer price. The company touts that offers using their service "stand out because it saves the seller money". For example, on the sale of a home for $300,000, the program advertises that a seller "saves up to $4,500" over traditional offers submitted by a Realtor®.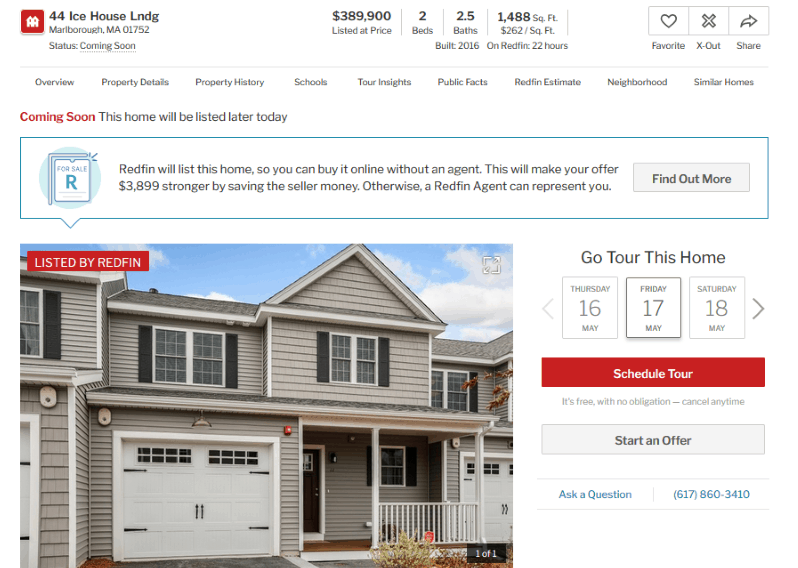 Smaller Commission Costs to Sellers
Sellers who accept Redfin Direct offers, pay the company between 1% and 2%.  This potentially saves the seller thousands of dollars on commissions.  This fee is in addition to the 1% listing fee Redfin charges for listing the seller's home.
Rather than using a buyer's agent to tour and view homes, the seller's agent meets the potential buyers at the home.  Additionally, buyers negotiate directly with the seller's agent.  If the buyers' offer is accepted, the buyer works directly with their lender and title company to complete the home buying process.
Not their first attempt
Redfin attempted a similar program in 2006.  However,the program never succeeded because it didn't have a large number of listings at the time.  Redfin spent the past 13 years building up it's listing business.  In 2018 Redfin had 25,000 listings.  Now, with a sustainable number of listings, Redfin seeks to change the way buyers purchase homes.  As Redfin's CEO Glenn Kelman said, "it's the second half of the equation."
Silicone Valley wants to buy your house too
Other tech companies have been seeking to change the way sellers sell homes and compete with home flippers.  Companies like Zillow, OpenDoor and OfferPad offer to purchase your home, backed by venture capital.  However, these platforms known as iBuying are not without their critics.  Critics claim iBuying is an "overhyped, capital-intensive business whose explosive growth will fizzle once investors tire of profit margins that Zillow itself calls 'razor thin.'"
This past week Zillow released it's first quarter 2019 earnings report for it's latest enterprise, Zillow Offers.  Analysis by WofStreet.com revealed that Zillow made a gross profit of $14,700 per flip.  After calculating in overhead costs for the program, Zillow lost $109,000 per flip they attempted.  We'll see if investors continue to prop up Zillow's home buying platform with those kinds of profits.
Conclusion
Whether or not these iBuying platforms succeed, or end in another dot com bust is yet to be seen.  With over 10 billion dollars in real estate commission on the line, they're bound to make an impact on how we buy and sell houses.