On May 1, Attom Data released it's  US Home Equity and Underwater Report of significantly underwater homes for Q1 2019.  They conclude that 9.1% of the homes in the US with mortgages were seriously underwater.  Seriously underwater is defined as when the loan balance is more than 25% of the estimated value of the home.  Between Q1 2018 and Q1 2019, approximately 17,000 homes were added to the category, bringing the total to 5.2 million underwater homes in the U.S.  This figure is up 8.8% from the previous quarter.  It also is the third straight quarter with an increase in the number of underwater homes.
Not everyone has recovered from the Recession
With a slowing housing market, home values are taking a hit.  In some metro areas, as many as 20% of the homes with mortgages are underwater.  Areas like Scranton, Pennsylvania (20%) and Baton Rouge, Louisiana (21.3%) are some the hardest hit areas .  When the data is broken down by zip code, some thirty-two zip codes across the US are facing percentages higher than 50%.  These include some zip codes in Milwaukee, Chicago, St Louis, and Cleveland.
Home prices trending down
The number of underwater homes has trended down over the previous five years.  It's down more than half from the peak of 12 million when Attom Data first started reporting underwater homes.  However, we started seeing a shift back up in 2017.  In August 2017 we reported that the buyer's market was back.  In the year and a half since then, prices have been pushed down by buyer restraint and reaction to overly optimistic seller prices.
At that time, Zillow reported that price cuts were becoming more common, especially in the higher priced homes:
About 14 percent of all listings across the U.S. had a price cut in June 2018.  This was up from the low of 11.7 percent from just 18 months earlier.
In San Diego, 20 percent of listings had a price cut in June 2017, up from 12 percent the previous year.
Home value growth is slowing in almost half of the 35 largest U.S. metros, with Sacramento and Seattle reported the greatest slowdown since the beginning of the 2017.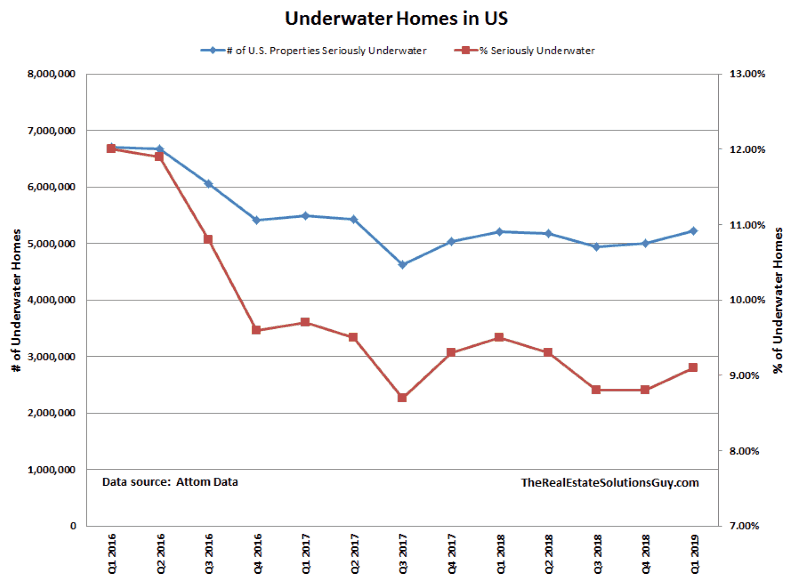 It's not all bad news
While there are areas that have not fully recovered, and are still underwater, there are areas that are have substantial amounts of equity.  States like California, New York, Washington and Hawaii according to the report, have as much as 43% equity in their homes.   For example, in the 408 area code cities like San Jose and San Francisco, 68% of the homes with mortgages have equity.  In some zip codes in the Bay Area, as many as 80% of the homes have significant equity according to the report.  Mountain View (94040) topped the list of zip codes with the 82.3 percent of homes having 50% equity .
Northern California exceptions
There are exceptions of course.   The majority of cities in California are well below the national average of underwater homes at 9.1%.   However, there are several zip codes in the Northern California and Sacramento region that have higher than normal percentages.  For example, Santa Rosa has a whopping 16.2% of homes underwater by more than 25%.  Undoubtedly, they have been impacted by the recent Tubbs Fire.  Granite Bay is an area of Sacramento known for it's high priced executive homes.  The higher priced homes have been hit the hardest by buyer push back.
But not all affected zip codes are in the higher priced areas.  A few zip codes in the Central Valley like 95815 Del Paso Heights in Sacramento and 95206 in Stockton were hit hard by the Recession.  Even now, these areas have not recovered as well as the rest of California.
Santa Rosa 95403 (16.2%)
Roseville 95678 (7.9%)
Shingle Springs 95682 (7.0%)
Sacramento 95815 (6.7%)
Granite Bay 95746 (6.1%)
Stockton 95206 (6.0%)
Vallejo 94591 (5.4%)
Get an as-is cash offer for your home
"*" indicates required fields