There's a lot panic surrounding the Coronavirus.  One common concern is, "What will the impact of Coronavirus be on residential real estate?".  While the COVID-19 virus will certainly have an impact, it may not have the drastic impact that our fears imagine.  No one really knows what will happen, but we might be able to glean some insight from previous pandemics.
Lessons from the SARS 2003 Outbreak on Hong Kong Real Estate
Severe Acute Respiratory Syndrome (SARS)  created similar in Hong Kong in 2003 fears as COVID-19 has today.  In the three month period from March 11, 2003 to June 6, 2003, Hong Kong saw 1,750 people infected with the SARS virus.  In Hong Kong alone, 286 people died from the virus.  Mainland China experienced similar numbers with 5,329 cases and 336 deaths reported.
Residents hid in their homes, avoid social contact and schools were shut down.  Reports of the virus dominated the news.  Experts began to wonder if Hong Kong real estate would forever be perceived as less desirable.  Simultaneously, real estate prices fell 8% resulting in $28 billion in downward pressure on real estate prices.
Hong Kong Price Declines only Partly Due to SARS
However, a 2008 research paper from the University of Pennsylvania, entitled, "Has SARS Infected the Property Market", questioned whether SARS had truly contributed to Hong Kong's real estate price drop.  The paper looked at the residential properties, specifically multi family complexes, where at least one unit had reported cases of SARS.  The author concluded that the actual price declines of properties with reported cases of SARS, was roughly 1-3%.  However, the housing market in general saw a 1.6% decline in prices, even those properties without reported SARS cases.  Their conclusion was that "the SARS-related price movement was less than $1 million".
The real reason for Hong Kong's real estate decline was a reflection of real estate's over valuation.
This is born out by research from Zillow on the affect of pandemics on real estate prices in the graphic below.  The blue line represents the decline in real estate prices.  For the year prior to the SARS epidemic, real estate prices in Hong Kong were declining.  By the time the epidemic hit, prices had already dropped more than 10%.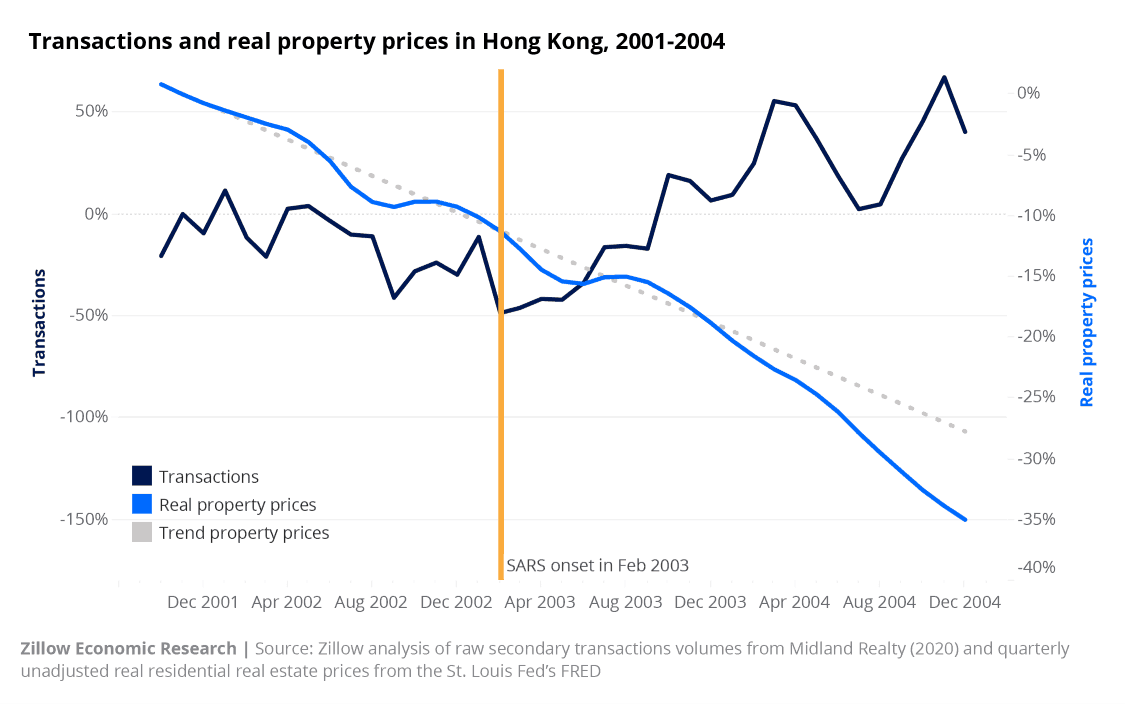 By the time the epidemic hit, prices had already dropped more than 10%.
Now follow the dark line.  The dark line represents the volume in real estate transactions.  The volume of real estate transactions, was back to pre SARS levels within just few months!  It seems that once the emotional fear of the virus was over, people went back to buying real estate.
Impact of COVID-19 on China's 2020 Real Estate Market
We similar reactions in China following the COVID-19 virus.  Each year real estate purchases drop off significantly around Chinese New Year, but pick up approximately two weeks later.  Following the Coronavirus in 2020, we see a similar uptick in real estate purchases. The obvious difference is the volume of transactions is roughly one half of the average of the past few years.
In of itself, it's doubtful if the novel coronavirus will have a lasting effect on real estate demand, or purchasing.  However,  our social distancing precautions are likely to have a much bigger impact on buyers abilities to obtain financing.
What Can we Expect to See?
Unemployment Will Have the Biggest Impact
A record 3.3 million people filed for unemployment the week ending March 21, 2020.  That's number is 5 times the peak number of the Great Recession peak in March of 2009.  In a research paper written by St. Louis Federal Reserve economist Miguel Faria-e-Castro, the estimate is that by June 2020, there will be a 32.1% unemployment.
Even with government stimulus checks, it will be doubtful if we will have the same number of qualified buyers when this is all over.  If companies take advantage of the Payroll Protect program that is part of the CARES Act, those employees will be able to keep their jobs and make home purchases.  However, those who have been laid off will not be able to purchase homes until they have re established a work history.  What that work history will need to look like for lenders, is yet to be seen.
Home Loans May Become More Difficult to Obtain
Borrowers will have an increased difficulty obtaining loans, especially entry level buyers with very little down payment.  Lenders are becoming increasingly nervous about lending money to buyers who might default.  To add to their anxiety, the CARES Act requires  lenders give loan forbearance to buyers who request it, for up to a year.  In addition, lenders, and loan servicers, are prevented from reporting any negative credit issues for home loans or pursuing foreclosure for up to one year.
In order to protect themselves, lenders are adding new overlays to loan requirements.  Overlays are additional requirements created by the lender who ultimately buys your loan from your mortgage broker.  Even though FHA currently requires a credit score of 580, your lender may want additional protections, such as a credit score of 620, or to limit how much of your down payment can be gifts from family members.
Virtual Tours Won't Sell Houses, But Will Change the Market
There's been a lot of stories in the news about virtual home tours.  Agents are trying to find ways to show homes during this period of social distancing.  This may work for residential rental market or vacation rentals, but it's unlikely to have much impact on home sales.  True, a great video will show the house well.  However, who is going to commit to a large home loan without having physically walked through a home?
Barbara Corcoran of Shark Tank and a real estate broker in New York, says "People will commit to a short-term lease and maybe even a one-year lease with the super showing the apartment on a virtual tour if they really need the apartment. But once you get outside the rental market, there is no way people are going to be buying units because of a phenomenal virtual tour".
The long term result of virtual tours will likely a complete change in the real estate industry.  "This will change the way real estate is marketed, without a doubt.  We're going to see all of the brick and mortar stores that are paid for by large real estate brokerages, probably not exist two years from today," according to Corcoran.  In addition, there's already panic in the industry more and more people are selling to iBuyers rather than through real estate agents.
Mortgage Loan Applications are Down 24%
Just to emphasize that virtual tours alone will not sell houses, today the Mortgage Bankers Association reported that mortgage applications for home purchases is down 10% from the previous week, and down 24% from the same week last year.   "After double-digit annual growth to start 2020, activity has fallen off last year's pace for two straight weeks."  And we're entering into the Spring buying and selling season.  Clearly, visual tours aren't selling homes as well as people physically walking through homes.