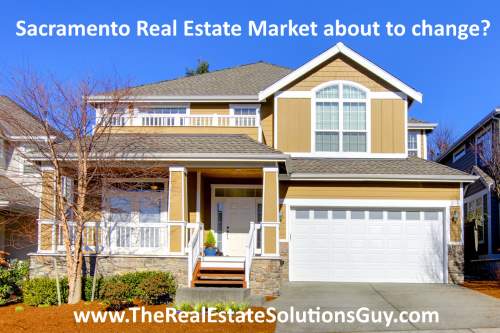 Updated:  August 13, 2018
This post was originally written in May 2018.  At that time we noted that an increasing number of buyers felt that it was no longer a good time to buy a home.  This week the Sacramento Association of Realtors released their monthly numbers and it appears we may be reaching the tipping point.  For the first time in seven years, the median price (the average of the highest and lowest priced sales in sales in the County) dropped $5,000.  The current median price for a home in Sacramento County is $370,000 but is less than the median price of $392,000 reached in August of 2005.
Though this is less than the previous high, we should remember that in 2005 there were many teaser loans where buyers could purchase a home that was beyond their means based on low monthly teaser payments.  As of July 2018, only 41% of the residents can afford to purchase a home according to the California Association Of Realtors.  As a state, we are at 26% affordability, down an additional 3% from the same quarter last year
Meanwhile we continue to see an exodus of buyers from the state.  I like to periodically check out UHaul rates in and out of the state.  When the prices to rent a moving van a substantially different in one direction over the other, it can indicate the direction that people are moving.  Take for instance, Rancho Cordova, CA versus Dallas, TX.  Currently to rent a small moving van from Rancho Cordova to Dallas is $2,038 while coming the other direction is only $979 for a basic 10′ truck.
Is the bubble about to burst?  I don't think we're in a bubble yet. What I perceive is sellers may be becoming more realistic about the price they are trying to sell at.  Ryan Lundquist a Sacramento appraiser notes in his blog, that sellers are in a state of disconnect from their buyers.  Sellers are being overly aggressive in their expectations while buyers are taking their time waiting for the right house at the right price.  His recommendation to sellers is "to be in tune with reasonable prices."
Original article :
If you have been watching the Sacramento real estate market at all, you've probably noticed that real estate prices are going up.  And up.  You probably have also noticed that we've been in a seller's market.  Over the past two years, prices have steadily been climbing.  Well, that real estate trend may be changing based on numbers released this week.  If you have been putting off selling your Sacramento property, you may want to consider selling quickly while you still can get the best price before the trend changes directions completely.
National indicators impact the local Sacramento real estate market
The University of Michigan just released their quarterly update of consumer sentiment regarding the real estate market.  In particular they asked two questions:
Generally speaking, do you think now is a good time or a bad time to sell a house?
Generally speaking, do you think now is a good time or a bad time to buy a house?
These may seem like mundane questions, but they give us a clue as to how buyers and sellers are feeling about real estate.  It gives us an indicator us of how likely they may be to either buy or sell a house.
Hint of things to come
So here's the hint of things to come.  Those who felt that "Now was a good time to buy" were at a six year low while those who said "Now was a good time to sell" were at a 12 year high.
Combine the UMich report with the report from the National Association of Realtors yesterday.  It states that April Existing Home Sales numbers which were down 2.3%.
As Tyler Durden of Zerohedge.com points out
"Disparities of this breadth tend to coincide with break points and that's just where we've landed in the cycle.
"The beginning of May officially marked the advent of a buyers' market, defined simply as sellers outnumbering buyers by a wide enough margin to trigger falling prices. Yes, it's the moment buyers have been waiting for"
Are we changing from a seller's to a buyer's market?
If we believe Mr Durden's observations, we might be reaching a tipping point where we see more sellers than buyers.  If this is the case, then the Sacramento real estate market should see increased inventory (currently at under 2 months).  That, along with a decreasing number of buyers would bring lower prices.  Homeowners who are thinking of selling, may want to consider selling sooner rather than later.  If you are thinking of buying, keep watching and don't panic worrying that you're being priced out of the market.