One of the areas hit the hardest by the Coronavirus outbreak has been the travel and hospitality industry.  Whether it has been the closing of restaurants, or cancellation of travel plans, the COVID-19 virus has impacted businesses large and small.  One industry that has seen a significant drop in business, is short term property rentals.
Short Term Rentals like AirBnB See Large Drop in Reservations
Companies like AirBnb.com, Booking.com and VRBO.com have seen a 29% to 96% drop in reservations, especially in the large, metro areas hit hardest by the virus.  Business travels have been cancelled for the most part, causing cancellations of AirBnb and other short term rentals.  However, vacation rentals have not seeing as large of an increase in cancellations according to Fool.com.
COVID-19 Impact on Vacation Rentals
There are several reasons for vacation rentals not being affected as much as the large metro areas.  According to AirDNA.com, a website that specializes in vacation rental analytics, there are four primary reasons:
Vacation rentals tend to be more remote and have less exposure to COVID-19 virus.
Destination rental guests are often within driving distance and thus can avoid airline travel.
Vacation rentals tend be booked further in advance, and cancelling is often more difficult.
Lastly, vacation rentals often have more stringent cancellation policies.
Destination rental landlords are Pricing Aggressively
According to AirDNA's reservation metrics, landlords of rural properties have been aggressively lowering their prices since the beginning of the virus.  Since the beginning of February 2020, the average price of available vacation rentals has declined. This may simply be due to the immediate impact of the Corona Virus on vacation plans.   However, AIRDNA's data also shows that tenants appear willing to pay more than asking price for summer vacation time slots.  This seems to indicate that people are expecting the pandemic to be over by summer.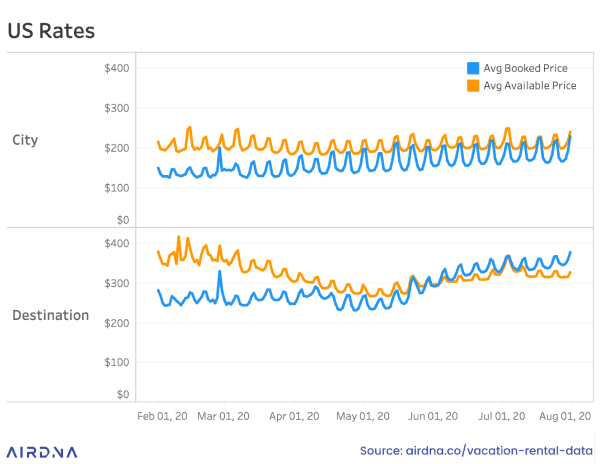 In the meantime, what are vacation rental landlords to do?
Escape to a COVID-19 Safe Houses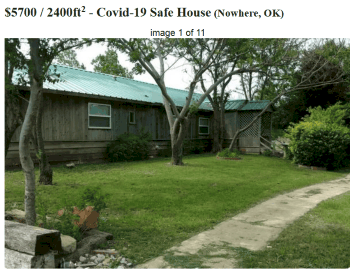 Some rural landlords are getting creative with their marketing.  Instead of marketing for short term vacation rentals, they're offering long term rental COVID-19 escape houses.
One landlord in Nowhere, Oklahoma advertises, "In the wake of the likely lockdowns and quarantines about to be faced by city-dwellers across America, you need a safe place for your family to live. This country home sleeps 9 on beds (3 more on mattresses on the floor) and is available for long-term rental".  You have to admit, that with a name like No Where, Oklahoma it is probably far, far away from the Corona Virus.
Another landlord advertised his rural property outside of Sacramento, California saying "Escape the coronavirus and move to the country!".  And a landlord in Big Bear, a mountain resort town outside of Los Angeles advertises his rental as, "a good location to live for the next 6 months to hopefully shield your family from Corona Virus Covid-19".
Cashing in with Coronavirus Safe Houses
If you thought your black market toilet paper was expensive, consider this offer on Craigslist for a luxury B&B in Tuscon, AZ.  "One very exclusive opportunity for 4 adults or a family of 5 to escape the infested city and wait out the virus… with a minimum of 120 day rental at a daily rate of $3,125.00 per day for both rooms".  They finish their ad by saying, "hurry before travel is shut down".  If you're still able to travel, you might want to check out www.stonegoatranch.com.
Conclusion
For those who have rural vacation rentals, maybe it's time to rethink your marketing.  Instead of advertising for short term vacation destinations, how about rebranding your marketing to those who are looking to escape the Coronavirus?
Get an as-is cash offer for your home
"*" indicates required fields